John Mayeaux of Slidell, took a day off during the week to take his kids Kathryn and Christian fishing while they had some time off. After a short boat ride he decided to stop and fish on the west side approximately a half-mile south of Trestle drawbridge. He rigged the kids with a sliding cork and armed them with live shrimp. "Sliding corks at Trestle are a new thing for me, but it gives the kids something visual to rely on rather than just the feel," he says. It didn't take long for the action to start.
"My son caught keeper trout on his first two casts," John says. The trout action didn't last long but luckily the family started catching croakers. "We caught fish from 8:00 a.m. to 9:00 a.m. and the wind picked up big time and the waves got pretty bad. Then the trout bite died off and croakers showed up," John says. Mayeaux decide to call it a day and the team finished with 10 keeper speckled trout and several small croakers.
Justin Bowles made a trip with a friend to the train bridge and says the boats were thick during the morning hours but dissipated when the winds picked up to 15 mph. They ended up with 27 keeper trout but Justin says they should have had more. "We missed several trout at the boat due to conditions, but we also landed some nicer ones. From my experience the bigger ones bite the rougher it gets out there," Bowles says. All the fish were caught on Matrix Shad in the Holy Joley color.
​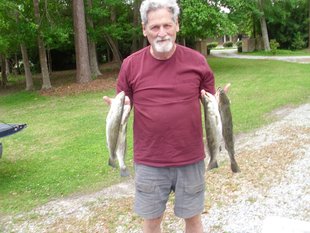 Buddy Hereford and Alan Geunard made a morning trip to the bridge. They launched at Bayou Liberty Marina and made their way to what buddy refers to as his "favorite 5-mile-long reef."
Upon arriving, the friends quickly learned that they weren't the only ones who favorited the bridge. "We expected to find a few boats along the track, but not the numbers we encountered," says Hereford. They found an opening in the boat traffic around the 174 mark and started throwing Matrix Shad in numerous colors and finally found the best bite was on the "Tiger Bait" color. "Allen boated a nice 15" speck on a Tiger Bait Matrix, Then I followed suit, and it was on!" he says. The tide was falling but Buddy says the bite was best on the west side of the bridge. "The best by far was west side of the bridge, we casted parallel to the bridge about 20-30 feet out and let the tide move the lure to the pilings, some of them were caught off the bridge and we caught some close to the pilings," he says. The team ended the day with
38 speckled trout that measures 12"-18" with 5-10 throwbacks.