Hi, I'm Captain Devin. I own Swamp Stallion Fishing Adventures, a speckled trout and redfish charter that is based out of Hopedale. I grew up on the Northshore and still live there today. I wrote this piece for NorthshoreFishingReport.com because I believe it's a great website geared towards those who live on the Northshore. I hope you enjoy it! I have a blog and Facebook, both of which can be found at www.swampstallionfishingadventures.com/wordpress and https://www.facebook.com/swampstallion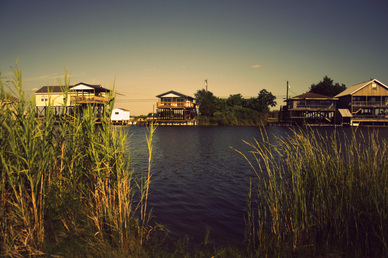 Eden Isles, Slidell La
Coastal living is inherent to the lifestyle of Northshore residents. This is evident with communities like Eden Isles, Lakeshore Estates and many others dotting St. Tammany Parish. It comes as no surprise that people on the Northshore love to fish and fish a lot. You can't swing a dead cat without hitting a boat that's just rearing to get out on the water! But fishing in some of Louisiana's most productive estuaries like Hopedale and Delacroix can be so time consuming and costly that one really wouldn't be able to fish as much as he wanted to. You would need a day off from work and fork out hundreds. Especially with rising gas prices, it's hard to get out on the water and enjoy yourself! But there's a secret that's right there in the open. This secret is on the Northshore, believe it or not! You can fish more, even on the days you work. You can hide from even the worst winds and still find clean water. It's easy to do and anybody can go. The secret is fishing the canals of neighborhoods on the Northshore. But there's more to it! Read on to learn what makes fishing in Slidell so great.


---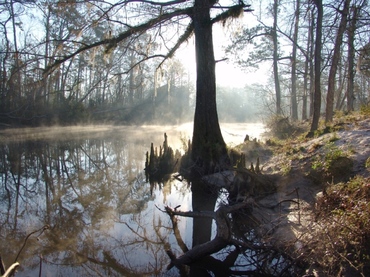 Tchefuncte River, Covington La
One of the toughest players in the fishing arena is Mother Nature. She will win every time. But when fishing deep-water canals, the odds are stacked against her. Now you have a place to hide from the winds. How many times have high winds mucked up your fishing experience? Or, worse yet, not even been able to go at all? You can get out of the sun a lot faster when you have an actual skyline around you, provided by the all the urban structure. When I am fishing 4-6 days out of the week and just want to relax and have fun, I take my little flatboat out to go fish in the deep-water canals. Let's not forget that because the area is protected from winds the water in these canals will almost always be the cleanest.

These waterways provide all kinds of structure for fish to hold to. This is evident not only from the numerous docks in the area, but also the older pilings leftover from Katrina. Some deep-water canals are as deep as 40 feet, virtually guaranteeing clean salty water towards the bottom.


---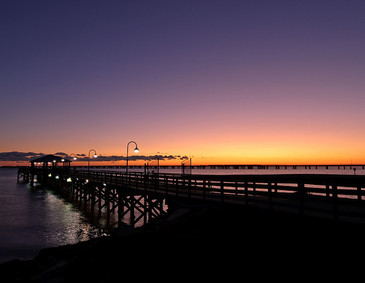 Sunset Point Fishing Pier, Mandeville La
I love fishing at night because it gets me out of the sun. But I also like it because the fish are visible from all the lights dotting the area. It's great positive feedback to see what the fish are doing. One time I cast across an underwater light, throwing a Deadley Dudley Bay Chovey in Blue Moon. I retrieved it at a steady pace and watched a bass follow the plastic. Yet he didn't bite. Then I cast again and did the same thing. Again, he followed it without taking the bait. I did the same thing again but this time added a twitch to my retrieve. BAM! He nailed it right away! I released him for another day, but I thought it was too cool to watch him behave like that. I watched more fish behave in a similar manner and it piqued my interest. How many more fish did the same thing on previous fishing trips and I didn't know it?

If my girlfriend (or anybody that doesn't necessarily enjoy the outdoors as much as I do) wants to go fishing, I am sure to take her night fishing on the Northshore. It's close, she won't get queasy in rough seas and I can take her to any of the local bars should she get bored. Did I mention there are also restrooms located at such establishments? She, and others, is always appreciative of that. By utilizing the layout of the Northshore, I can make the outdoors more enjoyable for anybody.

One of the best things I enjoy about fishing in our Northshore communities is that it's so close to home. Driving all the way down to Hopedale in a truck and then all the way out to Breton Sound in a boat can get old, especially with gas prices being what they are. When I fish closer to home, I can just focus on cutting up and having fun. Isn't that what fishing is all about anyways? I'm not worried about catching a limit of trout. In fact, I'm not worried about anything! But I do have way more fun than I should!

Don't forget that the Twin Span and Trestles aren't much further away! When navigating our coastal communities, be sure to exercise great seamanship and be a safe boater. Most of all be polite and respectful to those people living there. After all, those are their homes you're fishing behind! So please take that into consideration. I always put their concerns over my fishing trip.

I hope you take this idea and run with it. It's a great way to pass time, hone your casting skills, have fun and save a lot of money. If you're looking for more content to read, then check out the rest of NorthshoreFishingReport.com. Also, be sure to check out my blog, Captain Devin's Louisiana Fishing Blog, at www.swampstallionfishingadventures.com/wordpress. Thanks yall!
---