| | |
| --- | --- |
| I remember it like it was yesterday. It was early one Sunday morning. I was 14 years old riding in the passenger seat of my dad's truck. Behind us was a 1983 Bass Tracker, and we were headed to the Main St. launch in LaCombe for my first bass tournament ever. It was just a small club tournament, but as far as I was concerned we were dragging a 18 foot Ranger to the Bassmasters Classic. I was running on adrenalin cause I had no sleep the night before. My dad tells me he is going to launch me, and watch me off to be out on my own. I couldn't believe what I was hearing. This would be the first time I have been out on my own. I was so excited, and nervous I almost couldn't stand it. After launching I met up with some of the guys. We talked for a little while till the sun started to come up. Then everybody jumped in their boats, and got ready. When the man running the tournaments said go, I heard a roar of engines as everyone took off to their first spots. I take off with them as a natural high made me feel like I was on top of the world. I lowered my trolling motor at my first spot, but as soon as I go to push the foot peddle I hear a POP! The foot peddle is now loose, and the trolling motor will not turn. I grab my little tool kit, and take the head off. There lies a broken chain that turns the foot. Well I still had 6 hours of fishing to do, so I just went from spot to spot using my anchor. I fished all day with no fish. When I got back I told my dad what had happened, and what I did to deal with it. I watched as the guys brought their fish to the scales. After the winners were crowned we hung around, and talked to the guys trying to learn a thing or two. On the way home I realized that I had just as much fun hanging out with everyone as I did fishing. I continued to fish with that club for 3 1/2 years till I had to get a real job. During those years I learned so much about not only fishing, but also respect for nature, and to enjoy the simple things that life can bring. It's not always about winning. It's also about the friends you make. The high you get when it's time to blast off. Taking in the beauty of nature, and most important of all making every day count. | |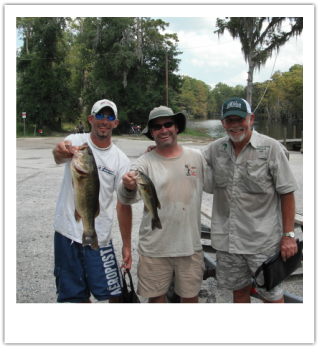 Fast forwarded 12 years to 2009. A good friend/fishing buddy of mine, David Allen, and I start talking about fishing some tournaments. There was a good club we found that fished on the Tchefuncte River. Great guys, but with my work I couldn't fish the Wednesday tournaments. We fished a couple other weekend tournaments, but never seem to find the comradery the old clubs had. We also noticed that we could not find many clubs that fished weekends all year. The few that did were 50 bucks a boat to enter and ran till 3 o'çlock. Not everyone wants to put out that kind of money or fish that long. This is when Dave and I started talking about how we should start our own tournaments. We kept going back to the old tournaments on LaCombe when we start talking about how we would run ours. After a year of talking about it we decided to do it. We first thought of the name. Through all the talks we had about the club we had joked about lots of names like "Bass Holes". One name kept coming back, and it was a little more family oriented than some. The Bass Assassins. We searched for it on Google, and found no local clubs with that named so we settled on it. During the winter of 2010 we started laying out the format with two things in mind. Keep it small, and cheap. This keeps some of the big boys out which can give the new guys, and the more laid back fisherman a chance. Not that we don't welcome everyone. In fact I like when I get to fish against the big boys, because it makes me a better fisherman. We were just wanted to start out smaller. We decided to do two weekends a month, and only fish till noon. The 12 o'clock weigh in makes it easier for people to get out to fish. Not only can you still have a afternoon to work around the house, but also in the summer it gets way to hot after 12. Once all the rules, locations, and dates were set, we put it out on some fishing forums. We started getting emails about it within a couple days. The first tournament was on February 12, 2011 on Bayou LaCombe. It was 23 degrees that morning. Despite the frigid weather we had 9 people show up and it turned out to be a great tournament. Throughout the year we met lots of nice fisherman. We even ended up with a group of 6 regulars that fished just about every tournament. These regulars are some damn good fisherman too. Things were going great.




---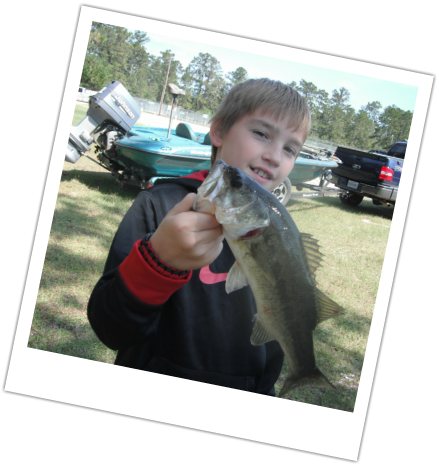 The first tournament of the second year brought the biggest number of fisherman we have ever had. Twenty-six people fished that day. Due to the number of boats I had to call people out that morning instead of the old shotgun blast off. The start of the second year also brought two milestones. My son liked to fish with me. I also knew some other fisherman who had young kids who would like to come out for a day with their parents. The only problem was it was unfair for the kids to fish against the adults. This is when The Little Tanglers was born. We separated the kids 15 and under from the adults so that they fished against the other kids. Later in the year we also decided to give them a smaller size limit, and a smaller creel limit. This made for a great time for the kids, and lots of smiling faces at the launch. I even watched as the kids would group up, and trash talk in the morning as the adults would do. Then when we all got back for the weigh in they would talk about how their day was to the other kids. Early in the second year we also started our relationship with northshorefishingreport.com. Keith was nice enough to give us our own page on the site to post pictures, and results. We have been very grateful for this, and hope that we can continue this.
---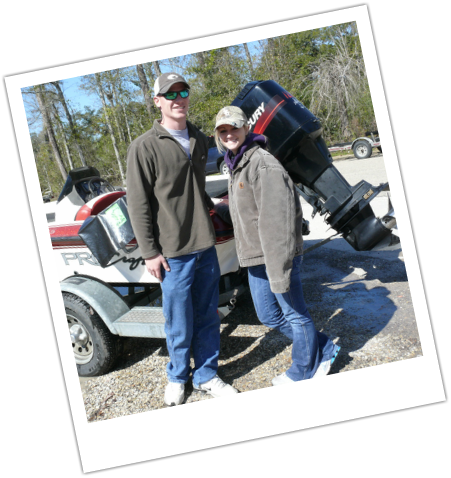 Over the past two years we meet lots of great people. Some of these anglers have their own tournaments as well, and they are some great clubs. My son, and I fish the SFB trail as well all year. I will be the first to tell you about all the other tournaments that I know of, or direct you to someone who knows more about them. This is because I know how much it helps my fishing when I branch out. I also know that those tournaments are not for everyone. That is the sole reason for starting the Assassins trail. I look back now on the beginning of my tournament career. Those simple little tournaments had way more affect on me then I realized then. They made me so much more grateful for what I have. I also owe a huge debt to my father for having enough faith in that 14 year old boy to let him go out on his own. I don't know if he knows how big that was to me, and how much it is appreciated.

Now we are approaching our third year. We hope that it will not only bring all the old faces back, but also bring some new friends. If you happen to be interested in joining us you can email bassassassinsla@gmail.com, or call me at 985-707-7857. If you might be interested in some of the other tournaments going on around the area you can call me as well. If I know who to call I will give you their number.
---