My History Carolina Rigging

It all started one night in June of 2008. A buddy of mine brought me to a fishing pier in eastern New Orleans. I hadn't fished in ages and although I fished as much as possible as a child in local ponds, at this time I was into different things. After arriving to our fishing destination, we set up on the very crowded pier. Needless to say, I felt very uneasy. We weren't in the greatest of neighborhoods and a lot of the people on the pier looked ruff, rugged, and loud... BUT, all seemed to be having fun and catching fish. My buddy suggested we setup our rods with popping corks and classic sparkle beetles. As we started to fish, we got some strange looks from the other fishermen. Now I felt really uneasy! Being the only Caucasian guys on the pier, I was wondering if it was a good idea to be so out of place. As I was asking my buddy to leave, a guy (similar looking to Bob Marley) approached us. He asked us if we had fished here before and my buddy said no. He told us to come down to the other end of the pier where he was fishing. As we followed him, it seemed like everyone we passed was reeling in a trout. When we arrived near his spot, he lifted the lid on his ice chest and showed us a full box of big trout. I was amazed. With a smile on his face, he explained to us that this was a regular occurrence on this fishing pier and that we were fishing the wrong way and wasting our time. My buddy asked him what he was fishing with, and he showed us how he (and everyone else on the pier) was rigged up. I was a little taken away. He was catching all of these big fish on a bait that was only two and a half inches long! When asked what the name of the bait was, he said it was a "finesse minnow" and it was the only bait he ever fished with. As I observed his whole setup, I noticed he had a big weight moving freely through his line with a swivel attached. Below the swivel was about six feet of lead line (yes, SIX feet of lead line) with a small jig head and the "finesse" lure on the jig head, I was blown away. NEVER had I seen anything like this. Growing up, I would watch as many fishing television shows as I could, and I had never seen anything remotely close to this.







The first time I was introduced to The Carolina Rig

After watching everyone catch fish off the pier the night before, I was eager to get back out there and try using this setup myself. I went out and bought everything the guy told me to use, and went again later the next night. As I was walking up to the pier, it seemed like all the same faces from the night before were out there and all catching fish once again. I was prepared tonight....or so I thought. I started fishing and after several unproductive casts, I started to lose confidence. What was I doing wrong? How are all of these guys catching fish and I am not? I am using the same exact setup! After about a dozen more unproductive casts, I had to ask. I asked the gentleman next to me if he had any tips. He told me to throw out as far as I can, and to make sure my weight was hitting the bottom. I couldn't throw out nearly as far as these guys, but was certain my weight was on the bottom. I kept at it, unproductive cast after unproductive cast. Finally, the guy told me exactly what I was doing wrong. He told me I wasn't throwing out long enough and certainly was not hitting the bottom. He explained that the water out there was very deep and by me closing my reels bail as soon as my lure hit the water, that I was nowhere near the bottom. He told me to cast out and count to 10. With his advice in mind, I made a cast and counted to ten. I closed my bail and without a doubt, I was on the bottom. I was full of confidence. Sure enough, after copying exactly what they were doing, I caught a fish. I set the hook and the fish didn't move. I had a huge fish on the line and let everyone know. Everyone laughed. Yup, I was snagged on the bottom. My confidence was once again shot. Seeing I was down, the same guy fishing next to me showed me how to remove my line from the snag without breaking my whole setup. Afterwards, we both sat down on his ice chest and talked for what had to be an hour. He explained to me (and showed me) everything he knew about fishing the pier. After taking in all that valuable knowledge, I fished the pier night after night learning something new every time I went. I had built a friendship with all of the regulars on the pier picking away at their years of knowledge. Within a few months of being introduced to that pier, I was steadily catching fish Carolina rigging. Carolina rigging was the ONLY way people fished that pier with success. I was addicted. For the next 3 years I fished that pier more than anyone else including the regulars. I could count on my hand the number of times I went home empty handed. Putting in time allowed me to master the technique of fishing the Carolina rig.

Word got out that they were closing the pier to do construction. A lot of people were upset but understood. Well not long before they closed it down, I was fishing one night and catching huge trout every few casts. That night a regular fisherman and I had caught at least a dozen trout in the six pound range using live mullet Carolina rigged. Then it happened, I hooked up to a monster trout and landed it shortly after midnight. It was over nine pounds on a hand scale and when I weighed it on an official scale the next day it was eight and a half pounds. My buddy informed me that catching a trout like that could have won me a boat in the CCA Star tournament. Another regular off the pier had won a boat in the same tournament but other than that, I knew nothing about the tournament itself. The next day I registered for the hell of it. Anyways, putting in time paid off. Shortly before being shut down, the waters of Seabrook rewarded me with the trout of a lifetime.

During my times fishing the Seabrook area, I had found another place to fish off land. I was told grand isle was the place to be. It took trial and error finding places similar to Seabrook where I could effectively use a Carolina rig. The first spot I came across was a "culvert" connecting two bayous via a pipe running under a road. It was deep and had a strong current due to the water being rushed through the pipe with the tide. In this rushing water, predator fish would wait and ambush bait being swept through. I came across about a half a dozen spots similar to this where I could use the Carolina rigged. I focused on these spots every time I went down there..and I went down there A LOT. I work a six days on, three days off schedule at work. I fish all three of my days off. A few weeks after catching my trophy trout at Seabrook, I was fishing one of my deep-water spots in Grand Isle. We were catching redfish after redfish after redfish Carolina rigging live finger mullet. To make a long story short, I hooked up into another redfish...or so I thought. I was muscling the fish thinking it was another redfish. Well it got crazy after that. It was another huge trout. After what seemed like a long fight, I netted the fish and was shocked at how big it was! After enjoying the beauty of the fish, my buddy reminded me I had registered for the CCA Star tournament. I went numb! I rushed over to bridgside marina and had the fish weighed. It was seven pounds and three ounces. The Carolina rig did it again! This time, I won a brand new boat after winning the tournament. I went from bank fishing to owning a boat thanks to the time I put in learning how to use the Carolina rig. It was the only method I knew to allow me to cast far enough to reach certain areas while bank fishing and had I not known this technique, I would have never caught my boat winning trout.

Now that I had a boat, I had plenty more options on locations to fish. Everywhere I fished out of my boat, the Carolina rig was the most effective technique to fish. It truly is an amazing and underutilized method of fishing. Besides Seabrook, my favorite place to fish a Carolina rig is easily the Hot water Canal in Bayou Bienvenue. This is the picture perfect place to use this technique. It is deep, filled with current, and holds big fish! Last year alone, we landed 5 fish over seven pounds Carolina rigging plastics. I would also like to note that I have fished it everywhere that people swear by jig heads and time and time again, the Carolina rig out fishes any other method. The Trestles, Rigolets, Causeway, and anywhere else with greater water depths than six feet. What surprises me the most is that I have never seen anyone use this technique in areas of Lake Pontchartrain. I am friends and fish with all of the top Lake Pontchartrain fishermen and they all are now believers in this technique.




How to Carolina Rig a TKO Shrimp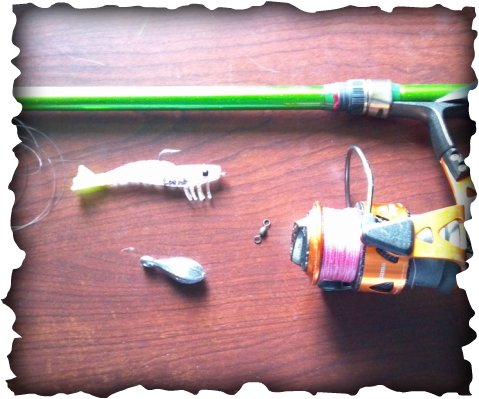 This is everything you need to setup a Carolina rig:
- heavy action/sensitive rod
- small swivel
- 1 ounce "bank" sinker
- 3 to 5 feet of 20lb lead line
- lure
---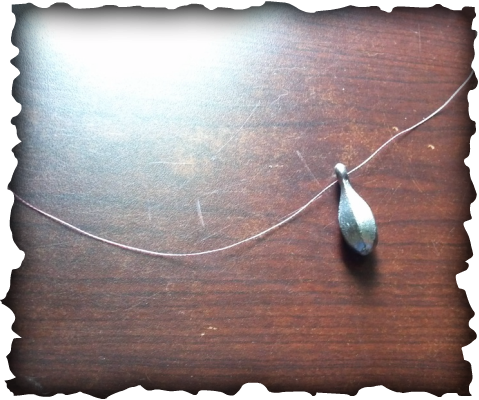 First step is to simply take the end of your line and insert
it through the eye of your sinker. You don't want to tie
your line onto the sinker, you want the sinker to be able
to freely move up and down your line.
---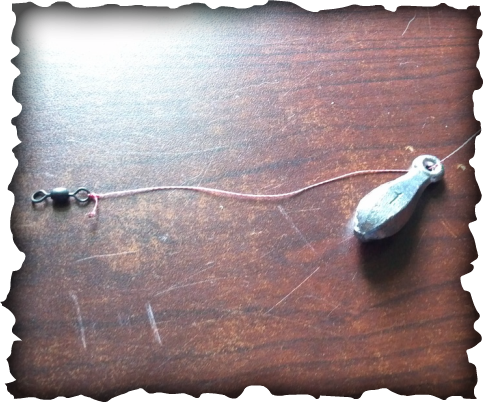 Next, you tie a swivel onto your line. I prefer the smallest swivel possible. However, if you use too small of a swivel, it will slide through the eye of your sinker.
---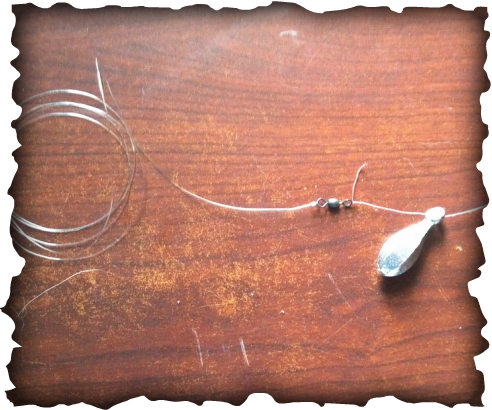 On the other end of your swivel, tie on your leadline. Let the water depth you are fishing decide how long to make your leadline. Generally, if I am fishing an area with 6-10 feet of water, I use 3 feet of leadline. If the water depth is 10 feet deep or greater, I use 4-6 feet of lead line. I prefer 20-25 pound test h2o mono for my lead line.
---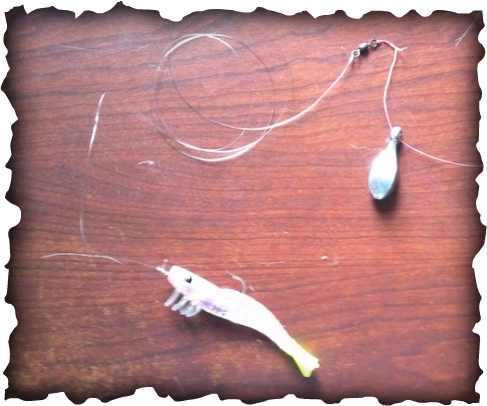 On the other end of the lead line, you tie on your lure. 90% of the time I am using a h&h TKO Shrimp or a Zoom Fluke Junior or Tiny Fluke. One of the questions I get asked the most is do I tie a jig head or a regular hook to the lead line. The h&h tko shrimp has a 1/4 ounce weight built into the lure so I tie the lure straight from the packaging onto my lead line. The zoom baits do not have a weight built in and depending on the area I am fishing, I try both a regular hook and a small jig head (1/16th or 1/8 ounce). Whatever seems to be working best I use.
---
There you have it, a complete and ready to use Carolina rig. Put in the time to learn the rig and it will certainly make you a better fisherman and put more fish in your ice chest!
By John Rucker