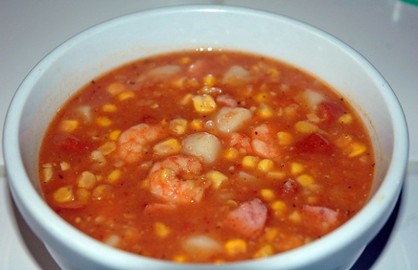 Here it is folks the best corn and shrimp soup recipe ever!!!
Ingredients
1 stick butter
3-8oz blocks of cream cheeese
1qt heavy cream
1qt half & half
6 cans cream of potato soup
1/2 onion diced fine
4 cans niblett corn
5 lbs peeled med. shrimp
1lb crabmeat or 2 cups chopped mushrooms or both
Directions
Sautte
onions and mushrooms in butter, when onions are clear add shrimp cook shrimp till pink and add cream cheese stir untill cream cheese is melted. add potato soup and corn and heavy cream and 1/2 and 1/2. keep stiring as cream will stick , season to taste!!!
heat untill hot.
you may have to thin this soup w/ milk to get it to your liking.
this is very good served w/ corn bread.
the reason this is called the mayors corn and shrimp soup is that the mayor of Hammond La. gave me the original recipe , and after you buy the ingrediants you'll see that you need a mayors salary to make it.
Oh yea this is a triple recipee it will feed 15 big eaters or 20 normal eaters
WARNING IT IS VERY, VERY RICH AND VERY, VERY FILLING !!!
HOPE YOU ENJOY IT!
p.s. this stuff is so good that if you put a bowl of it on your head your tongue will beat your brains out trying to get to it.

-Eman
---