Bass fishing on the Northshore's heavily pressured rivers and bayous can be frustrating at times. Customizing lures will give bass something that they haven't seen before, and it will help you stand out from other anglers that are fishing the same areas. As a local tournament fisherman and weekend angler I usually have to fish in or near crowds when I'm out on the water. I'm always looking for a slight edge when fishing a community hole or local hot spot. Customizing a lure will give me just the edge I need to try and stay ahead of the pack. There are many things you can do when making changes to lures. Here are a few custom changes that I like to make on my lures when fishing gets tough.


You can find inexpensive items such as beads, multicolored feathers, paints and brushes, colored glitter, glues and multicolored threads at your local thrift store. You probably can also find things around the house to customize lures. ( I'm sure my wife will be so excited when she sees the changes I made to my fishing lures using some of her old cheap jewelry I found.) I also like using some of my old damaged baits for hooks, split rings, eyes, spinner-bait blades, rattles, skirting material etc. These items can turn a new factory bait into your own custom lure or you can repair old damaged lures and save a few bucks.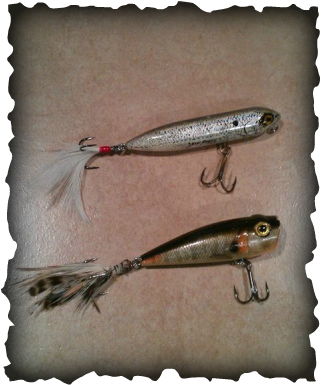 Adding flare to lures can make baits stand out in a parade of baits being thrown out on the water today. One of the easiest ways to add flare and color to baits are through feathered trebles. I attach a feathered treble to top-water lures to add length and to change the baits action. Most top-waters will usually come with a feathered treble attached to the back. I'll change it out for one of my homemade feathered treble hooks. (You can make your own feathered trebles by simply attaching feathers to a #6 or #4 treble hook. Use colored thread to make several wraps around the hook and feathers, tying a couple of half hitch knots to secure it to the hook. Then use a small drop of super glue to the thread to harden and secure the knot.) I'll try to match the lure color with the same colored feathers. (You wont see many bream swimming around with a white tail.) Making your own trebles will allow you to experiment with different colors and sizes to see which is better for certain areas and bait actions. It will also allow you to give your baits a realistic look. Popping style baits, I'll usually try to match the treble with the type of forage the lure is trying to mimic. If the bait looks like a bream I'll use darker colored feathers like black browns and yellow shades, if its a shad style color I'll use whites, blues, and red to give it a bleeding look. For walking style baits, I'll use feathered trebles on the back to give it bulk and length, and also to give it a tighter walking action. The tight walking action is great during high pressured fishing times and cold weather.


---
| | |
| --- | --- |
| Adding flare, color, sound, walking action and increase your hook up ratio on your hollow bodied frogs. First i like to swap out skirts on my frogs. Frogs come with great skirt material and good colors right out of the package, but i like to put my own flare and color combination together just to stick out from the rest. Its also great to use on old stand by baits that have been worn or damaged. I'll use skirt material that I have for my jigs in different color combinations to give the frog more color. You can also use old spinnerbait or jig skirting material for this application, Just remove the original or old damaged skirt from your frog. I made my own tool for this job but you can use a small paperclip to thread the skirt material through the frog. (Pass the paperclip or tool through the holes in the back of the frog attach the skirting material and pull skirt back through the holes of the frog.) To add flare to your skirt making it stick out away from the frog, stand your frog on its nose making the skirt material fall down towards the frogs nose. Place a dab of super glue on the skirt there it enters the frog body. Let the glue dry, it leaves the skirt flared out away from the body when stopped or in the paused position. Adding sound to frogs can also help bass find your lure in thick cover. You can do this by adding a rattle or BB's inside your frog. Insert BB's or rattles through the hook entrance on the belly of the frog. This will give your frog a sound that will travel further in thick cover calling those bass to your lures. It will give your bait added weight to make extra long casts to weary bass, and it will make your bait sit nose up so it can move easier through thick grass. Make your frog walk over and through cover will help you keep your bait in the strike zone longer. To do this trim both of your skirts about 3/4 to 1 inch leaving one side longer than the other. The longer side will create drag making your bait turn to that side. This will help your frog walk from side to side instead of sliding forward out of the strike zone when you twitch it. Attaching a stinger or trailer hook to your frog for a better hook up ratio. Use fine wire or small paperclip with a 1/0 owner live bait hook to make the trailer hook. This hook is small but stout. You want the smallest but strongest hook you can get away with. If the hook is too big and heavy it will get snagged and weigh the frog down too much killing the action. Bend the paperclip as straight as you can, the double it pinching down on the folded point with a pair of pliers. Pass the doubled end of the paperclip through the eye of the hook leaving about an inch of slack facing towards the hook point. Then bend the paperclip around the hook shank using a pair of needle nose pliers. Make sure you have enough slack to make at least two wraps and still have slack on the back end to attach to the frog. Bend the paperclip ends out away from each other creating a Y shape. Attach the paperclip ends to the hook shanks on the frog by twisting the wire around the bend of the hooks. Now you have a homemade trailer hook for those skirt nipping bass. This will also greatly increase your hook up ratio when frog fishing. | |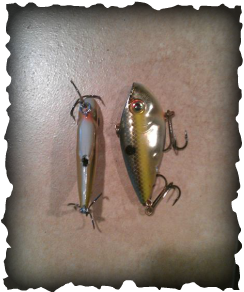 Lip-less Crank baits
Silence your baits to get those weary bass to bite. Baits with rattles will get a school of bass active. Silent baits will get those finicky bass to bite. Unlike baits with rattles where finicky bass can hear, feel and see them coming from a mile away. Silent baits sneak up on bass and before they can think, they react to it not wanting to miss out on an easy meal. To make your baits silent find where the rattle chamber is located. Then drill a small hole in the chamber just big enough to allow the BB's to roll out. (Note: Remove all hooks before you fire up the drill. If the drill bit bites while drilling the hole you'll end up with a hand full of treble hooks.) You can patch the hole with a small dab of silicone or leave it open. If you leave it open it will allow the bait to make bubbles as it pulls through the water giving the bait another subtle action to attract bass. You can do this with lip-less cranks, square billed cranks, deep divers and top-waters. Silent baits are beginning to be a major trend for weekend tournament anglers and pros as well. More and more people are throwing them when fishing gets tough or when a place has a lot of fishing pressure. They help put a few more fish in the boat at the end of the day.



---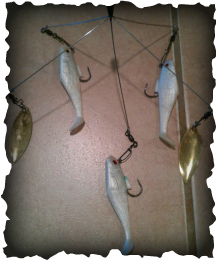 Alabama Rig with flare
Adding flash and vibration to your Alabama rig is an easy and cheap way to customize an already deadly technique. Start with getting a couple of willow leaf or Colorado blades with swivels attached to them. You can use blades from older spinner-baits just as long as they are the same size and style. Connect them to the two top arms of the Alabama rig. Then attach swim-baits or grubs to the bottom three arms of the rig. You can use different combinations of silver or gold blades as well. If you feel like two spinner-bait blades are a little too much but still want some flash and vibration. Connect a spinner-bait blade to the middle arm of the rig and connect four swim-baits to the outside arms of the rig. This will give the rig just enough subtle vibration and flash to attract finicky bass without spooking them.



---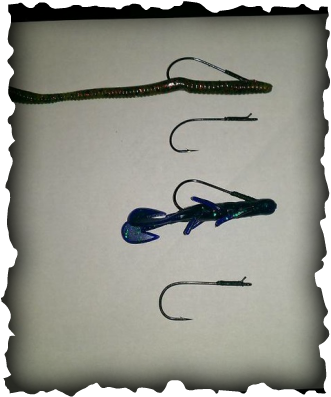 Hook Keepers
One of my favorite things to do is pitch worms and creature baits to cover. This is a long time staple in bass fishing. It allows you to present your baits to heavy cover without spooking fish. My favorite type of hook for pitching and flipping is the straight shank hook. It has a small profile and heavy wire. It also has a lot less flex than your offset wide gap worm hooks allowing you to use superlines and braids to horse fish out of thick cover. One problem i had when presenting my bait in and out of heavy cover was my soft plastics would get hung up and slide down the hook shank. I would have to constantly adjust my lures sometimes tearing them up in the process. Bait keepers will keep baits in place without damaging them when getting in and out of heavy cover. They do have really good flipping and worm hooks out on the market today but they can be very pricey. Tying a bait keeper to your worm and heavy cover flipping hooks will not only help you catch more fish but it will also save lures and money. Its very cheap and most of all its affective. You can use material you have hanging around the house or tackle box. All you'll need to buy is some straight shank 4/0 or 5/0 worm hooks. Academy or Bass Pro has them for $3.99 for a pack of 5 opposed to buying some for $6 $7 or even $10 per pk. Then find a piece of braided line (the smaller diameter the better) and some old jig weed guards or if you dont have jigs you can use a small paper clip cut in 1.5'' to 2'' pieces (even the plastic bristles of an old broom would work just fine also). Cut a few 1.5'' to 2 '' pieces and fold them in half using a pair of pliers to squeeze the doubled tip until its flat. Then take the piece of plastic or weed guard and attach it to the back of the hook shank about 1/8'' away from the hook eye. Use the piece of braid and tie a couple of half hitch knots to start. Then wrap the braid tightly and neatly all the way up towards the hook eye leaving about 1/8'' to 1/4'' of the plastic exposed. Then make a few half hitch knots to secure the keeper and cut the braid as close as you can to the hook. Take a pair of needle nose pliers to bend the uncovered plastic weed guard out away from the shank. This small piece will keep your bait from sliding down on the hook shank. Take a black magic marker and color the braided line. Then use a small drop on each end of the braided line to harden and secure the keeper to the hook. Now you have a heavy cover flipping hook with a good weed guard to tackle those weary bass hiding in thick cover.

These are some custom tips I use when bass fishing to give the bass something they haven't seen before. Its also a great way to save money and salvage old baits or create your own personal touch to already good baits. Use these tips when preparing to fish heavily pressured waters to stand out from the pack. They will help you put a few more fish in the boat and give you a great feeling when you catch a lunker on a bait that has your own special touch to it. Be safe and good luck fishing.



---