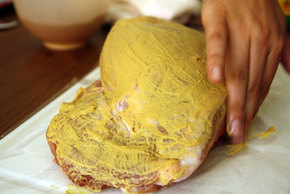 This is a tried and true rub I have finely tuned and has become my go to rub for any pork. first of all instead of plain yellow mustard I mix, 1 cup yellow mustard, 1/2 cup molasses, and 1 tsp liquid crab boil. Brush this liberally on your pork.






---
The Rub:

1/4 cup hungarian or spanish paprika

1/4 cup onion powder

1/4 cup garlic powder

1/4 cup cbp

2 tsp celery seed

2 tsp ground mustard

2 tsp cumin

1 tsp nutmeg

1 1/4 cup dark brown sugar.
If there are coarse lumps left over you can run it through a food processor
Brush on a good coat of the mustard mixture and then coat the pork with a heavy coat of the rub. wrap and in the fridge overnight if possible.
Before you smoke your meat, hit the pig with another dusting of rub and smoke away. This recipe makes enough rub for 6 racks of spares or 2 large butts.
Hope you enjoy and let me know if you try it.
-Eman