One of my favorite times to fish the Northshore is during the fall. When the days start getting shorter, and nights getting longer. The occasional passing cool fronts, the air and water temperature getting cooler. When most people are deer hunting. You'll find me on the water!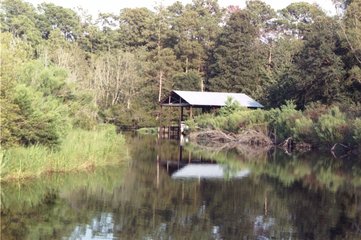 Bass move to shallow cuts and boat slips like this one on Bayou Liberty
One pattern to key in on is the big shad movement from deeper open water to the backs of creeks and position themselves around shallow cover. Bass are pulled from there summer hideouts to take advantage of the cooler waters and easy meals. Anglers keying in on this pattern can find themselves in a bass feeding frenzy and can fill out limits quickly with fat, shad filled bass.

Anglers can catch bass on crankbaits, swimbaits, spinnerbaits, wakebaits, lipless crankbaits, and most of all topwater baits . The key to catching them in size and numbers are to match the hatch as well as you can. Bass at this time of year get so conditioned to shad that its important to pay close attention to detail when choosing baits. Schooling bass are fun to catch but they can also be finicky about what they eat. Especially when they have a choice between a mouth full of shad and a plastic plug. I'll concentrate on size of the baits first, with smaller bite size baits getting my vote. This time of year a majority of the shad are usually smaller because these are juveniles from the late summer spawn. Then I'll concentrate on choosing the color of the bait. I have noticed when the sun is bright in clear water shad will have a gold or dark tint to them. When the clouds are out or the water is stained shad will have a silver or white tint.


---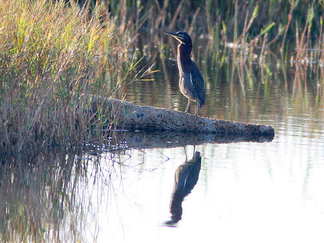 A Heron scans the surface for baitfish in the Rice Fields Canal
Early in the fall I'll scan areas with my electronics looking for shad and bass. The first thing I look for are schools of shad at major intersections of a river or bayou. These are the areas that shad and bass will usually stage first before heading to the backs of creeks and slips. These places will usually have some current on them and will position fish in small eddies. This will make it easier to find where the bass are positioned. Its okay if you don't have electronics because mother nature has her little ways of helping out. Look for wildlife like seagulls, cranes, kingfishers or grebes (hell divers). These birds are some of the best fisherman around and seeing them usually mean baitfish are near by. Having a good pair of polarized sun glasses will help you when looking for shad. You'll notice big dark areas just under the surface of the water. These are schools of shad and bass aren't going to be far away. Once I have located baitfish and bass, I'll position my boat bow up into the current or wind. These types of areas are really good for deep running crankbaits, swimbaits, and walking topwater baits. These baits allow you to cover a lot of water. I'll make long casts past the area where I located the baitfish and bass so that I bring my lure down current through the school. If i catch a bass I'll try to remember that exact spot and cast right back to that same place. Making repetitive casts to that same location will usually keep the school fired up, and your more than likely going to catch multiple fish from that general area. Shad will move around some on a spot like this. It can be from a small change in current, wind, cloud cover or even a small shift in baitfish location. Just remember bass are there because of the shad and if the shad move, bass will move right along with them.
---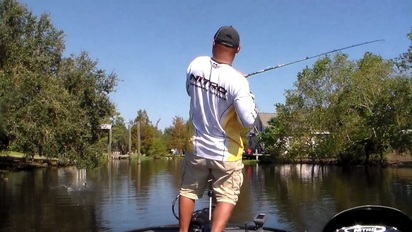 Coin Du Lestin Subdivision off of Bayou Bonfouca is a fall hotspot!
Late in the fall I'll move to the backs of creeks and bayou's in search of bass. Shad head to these areas when it gets cooler to take advantage of a late plankton and algae bloom. The water in these shallow back water areas usually stay warmer longer during the fall. The sun penetrates these shallow areas allowing plankton and algae to bloom once more before winter, giving shad the nutrients they need to grow. Like other animals shad feed up heavily before the winter and these areas provide warm water and the food they need. Bass will migrate to the backs of these shallow creeks, bayous and boat slips to feed up on shad. These areas will have less current than main river intersections making bass relate to wood, docks, down trees and rock to ambush shad. In these back water areas bass will travel together in small schools pushing baitfish into small intentions, cuts or coves. Once they have the shad balled up together the feeding starts. I'll comb these areas quickly until I see some activity from baitfish and bass. When I find the right area I'll set up and fish it over thoroughly making more than one pass on that particular bank or cove. Remember to pay close attention to the bait and type of structure you caught fish on because you can run to similar back water areas throughout the day to catch bass. These areas and conditions make for really good topwater, spinnerbait and shallow running crankbait fishing. I use popping style topwater baits, smaller spinnerbaits,and squarebilled crankbaits because these baits are target oriented. They can be thrown to schooling fish on the surface or pitched to structure in that area. Even though the water is cooler I'll still move fast to cover water. Bass are very active and feeding heavily this time of year. The more productive water I can cover, the more chances I will have at catching big fish and big numbers.
---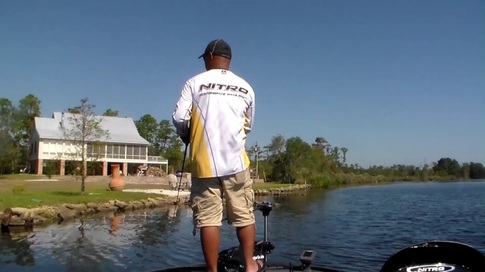 "The wind will break up the surface of the water and will help break up the profile of your lure."
Fish the wind every chance you get. The wind can be your friend during this time of year. I'll try to fish wind blown banks anytime I can. The wind will break up the surface of the water and will help break up the profile of your lure. The wind will also blow fall plankton into a bank or cove. This will attract baitfish and bass. When you find rock or wood and grass during this time of year and have the wind blow into that area, you can almost bet they will have bass there.

As an added bonus to catching largemouth bass. The Northshore rivers and bayous near the lake are chock full of specks, drum, flounder and reds. An angler can take full advantage of the Northshore by filling limits of bass then heading south to the lake area to fish the marsh for reds, specks, drum and flounder. Use these tips when fishing the Northshore or your favorite fishing holes. They may help put a few more fish in the boat. Be safe and good luck fishing. -Ronald Pierre



---