| | |
| --- | --- |
| Trotlines are, and have been a tradition in the south for many many years, but its a fading one that I intend to hold on to.Some of my earliest fishing memories are of me and my grandfather setting trotlines in the Hwy 11 canal where he lived and where I spent most of my summers as a kid. The first time he took me to set one out I had no idea what he was doing, but as he explained how it worked I thought he was the smartest man alive. He told me that back when he was a kid that's how his dad and him put food on the table. Of course those times of living off of the land are just about another page in the history books. Although we didn't need to run trotlines to put food on the table when I would spend time with him those summers, he did feel the need to teach me the way they did it back in the good ole days. Back then I didn't think we where doing anything but having fun messing around with those lines, but now looking back I see that he was passing something down to me that his dad and him did together. I remember how much fun it was and how I couldn't get enough. When I take my kids out to run lines with me, I see the same smile on there face that I know I had as a child and I know that these are memories that they will never forget. | |






Trotlines are very easy and effective at catching a lot of catfish of all species and sizes, although getting them made up set in the water is a little time consuming the catch is well worth the effort most of the time.

You can buy trotlines that are pre-made that will save you some time and headache, but I prefer to make mine myself. I'm sure most of you who are reading this already know how to set up and run a trotline, but to those of you who have not had the pleasure of doing so here are the basics.

A trotline is consisted of just a few elements. A main line, barrel swivels, drops, swivels snaps, hooks, weights, and bait.

MAIN LINE- I use #18 tarred line for my main line and drop lines. Some people like to use bigger line for there main line, some people use up to #36 on there main line and #18 for there drops. What size line you want to use is up to you, just make sure that it can pass through the eyes of your hooks and swivels.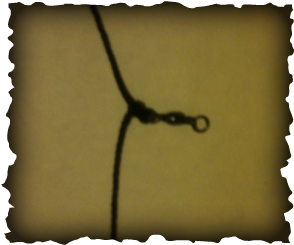 Barrel swivel on main line
BARREL SWIVELS- I use a #5 barrel swivel, you can use smaller ones if you prefer, but again, make sure the eyes are big enough to pass the line through and easily tie knots. I tie my barrel swivels every 3' apart on my main line.





---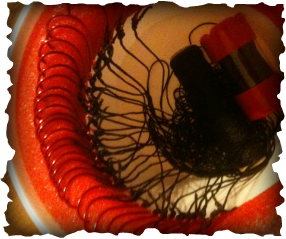 Drops and hooks in bucket
DROPS- The same #18 line I use for my main line is the same line I use for my drops. I cut my drop lines at 2' long. I say cut, but I actually burn the line with a lighter instead of cutting with a knife, this gets rid of the hassle of frayed ends. I tie a swivel snap on one end with a clinch knot and a #5 circle hook on the other end with a clinch knot. I have a 2 gallon bucket that I keep my drops in, you can take a pool noodle and cut it in half long ways and wrap it and glue it around the inside top of the bucket to sink you hooks into when you take them off your line.
---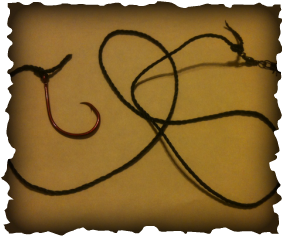 Circle hook tied to a drop line
HOOKS- You can use any hook you prefer, but through trial and error I have found that circle hooks out perform treble hooks, j hooks, and kahles.

WEIGHTS- I normally use 8oz of lead weights a quarter way out from the bank on both ends of my main line. This will help keep your line down in the water and away from passing props. If you are in an area where the current is a little strong you can use a brick instead. What you can use for weight is up to you.

BAIT- When it comes down to bait, its more of a question of what wont they eat. Like myself, they aint to picky. You can use chicken livers, cut bait, shiners, cocahoes, crawfish, melt, perch, shrimp, bacon, dough bait, punch bait, you can go on and on. If you choose to use live perch for bait it has to be caught hook and line first, its illegal here to trap perch and use them for bait.

---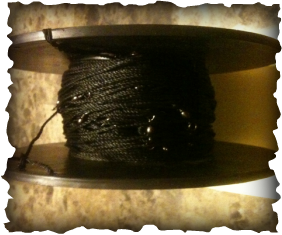 Main line roll
HOW I SET MY LINES - I predominantly fish these lines in Bayou Lacombe, and Bayou Liberty. Depending on where you want to fish them will determine how and where to set them. In Lacombe I will tie one end of my line to a cypress knee and run it all the way across to the other side of the bayou and tie off on another knee. Make sure you keep the line tight as you are setting it out. Once I get my line set and secured on both ends of the bank I start to put my drops on. I start from where I tied the end of my line on the cypress knee and use the main line to pull myself across to the other side connecting my drop lines in the process. In Bayou Liberty I often use 3/4" PVC pipe around 6' long. Just drill a hole about 3" from the bottom of the pipe and tie you main line to it and shoot across to the other side of the bayou and do the same thing. Most of the time the bottom is soft enough to push the pipe several feet down securing your line. Please don't use metal pipe or rebar due to the damage it can cause to someones boat if they where to hit it, also big catfish can be caught the further down the bayou's you go, but the closer to the lake you get, the more chance you stand of having your lines poached by crabs. If you set your lines at the mouths of cuts in the bayou's, anywhere there is log jams,around cypress knees, deep water in the bends, or on flats you should do just fine. I like to set my lines in the evenings before it gets dark due to the fact that catfish mainly feed at night and take cover during the day. When I pick my lines up I disconnect the drops from the main line one by one just reversing the process of setting them out.

In conclusion,
If you have kids and never done this with them, what are you waiting for? Take them out one afternoon and have them help you set them out and leave it sit overnight. They will be anxious as Christmas Eve night wanting to see whats on them lines in the morning, I still get like that, laying in bed thinking of all those Po-boys that will be hanging on my line in the morning! Well, have fun, be safe, and bring a net!



---