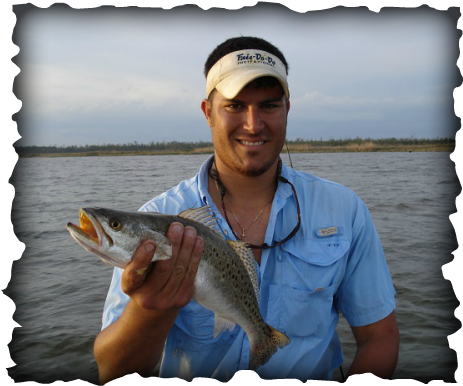 Anthony Chapman shows off his yellow-mouth caught just off the mouth of Bayou Cane
A serene few minutes were quickly disrupted as the starboard baitcaster bucked violently toward the water. As one scrambled to find the reel, the other instinctively manned the throttles. "He's there!," my fishing partner insisted. Just as we've done countless times before, one played the fish as the other kept the boat on course with the net close by. As another trolling victim hit the box, it was nice to not find another boat parading behind us, as all too common on the bridges. But wait, trolling with the nearest concrete miles away, how could that be? Everyone knows that the bridges of Slidell and Mandeville come alive for trollers in the spring but for those looking to escape the crowds there are other options.

As a resultant combination of necessity and a small tip from a helpful local angler back in the late 1990's, we cut our teeth pulling various plugs along the shoreline in the early spring. Prior to upgrading to larger crafts, being limited to a 14 foot flat boat necessitated that we remain close to shore more often than not in lieu of joining the fleet working the Causeway. Fortunately for us, a helpful neighbor assured us that there were fish to be had only a couple hundred yards from the shoreline. We gave it a try and were often pleasantly surprised. No, there weren't routine limits by any means, but we usually could boat at least a few fish with decent conditions.

The key to this approach was substituting the structure of the bridge spans for the drop off that follows the last sandbar from the shoreline. Much like bass fishing, this drop off tends to concentrate predator fish as they ambush bait along the shelf. Often visible from satellite imagery, the last sandbar marks the gradual transition from 4 to 6 foot depths down to Lake Pontchartrain's average depth ranging from 12 to 15 feet. A depth finder can be very helpful but we're often blessed with clear water (and sometimes even too clear) along the northshore so it's usually pretty easy to find. Keeping your boat following this depth transition is key to staying in the zone, particularly since the shoreline is far from straight like the bridges.

Some days the fish are holding closer to 6 feet, others a bit further out in 10 feet; don't be afraid to zig zag to find the preferred depth of the day. And why not, you've got plenty of room out there! Though fish can be found throughout the Green Point to Goose Point stretch, it's common to find them concentrated near the mouths of Cane Bayou and other small cuts along the shoreline, especially on a falling tide.

With regard to speed, it's the same game as on the bridges. Some days you can truck along at 2-3 mph or more without having to fool with extra ropes run behind the boat; but other days they want it slow. If you're determined to use your main engine no matter what, like I am, dragging a bucket or two and/or a drift sock can really help you on the days when getting to around 1-1.5 mph or even slower is critical. Vary the speed until you figure it out, using your GPS to precisely track what speed they prefer on that particular day.

---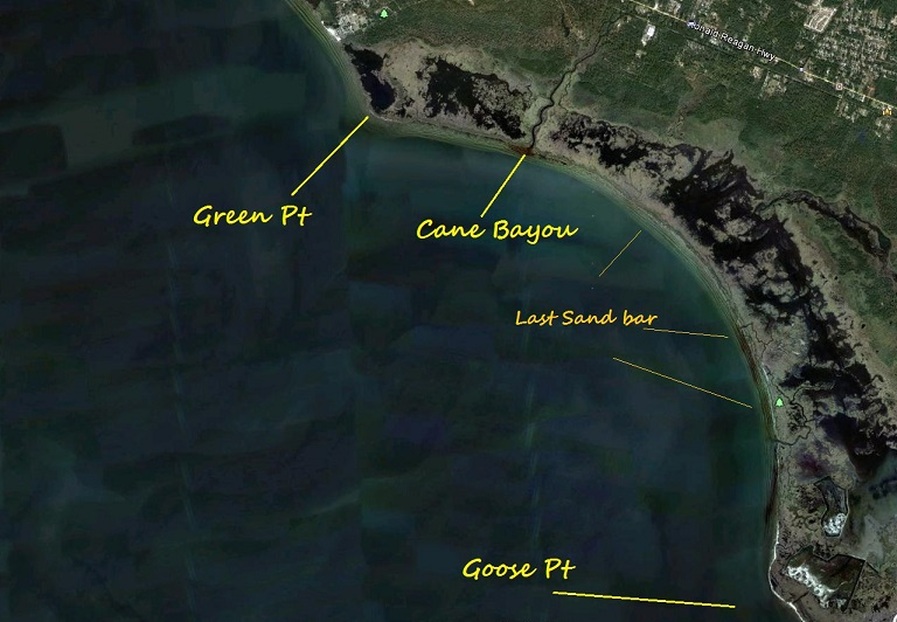 Over the years we've experimented with a rainbow of color choices, and innumerable combinations of each. Rat-L-Trap colors like gold/black, blue/chrome, pink/chrome seem to be consistent producers in the ¾ oz model. That said, the crawfish pattern, red, and chartreuse have also put fish in the box, just like on the bridges. MirroLure 52MR and its lipped compadre the L52MR have also been producers over the years in pink, green (mullet), and black back models. Though I've yet to try it myself, I've been told that gold spoons trolled along the shore can make for some real Chinese fire drills when a pack of reds finds them.

Though the spring will soon transition to summer, there's still some time to give this pattern a shot when the conditions allow. It won't hurt to also try it if other more typical summer patterns aren't holding and you just want to try something different. Though trolling can sometimes make for prolonged spells without action, it only takes a second for the rods to slam down putting everyone in a frenzy.