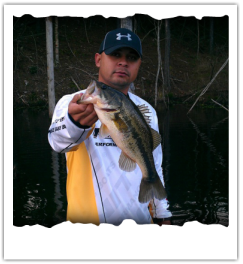 Hey folks this is Ronald Pierre with Northshorefishingreport.com. The spring spawn is finally here and its just about in full swing on the Northshore bayous and rivers. The weather is beautiful and the big females are moving dirt shallow. It's time to break out the flipping sticks and start pounding the banks for those spawning bass.
During this time of year I like to target grass. Alligator grass mats, milfoil, hydrilla, lilly pads, eel grass and pond scum are just some of the types of grass you'll find on the Northshore.
This type of cover provides a hard bottom for bass to spawn. It also offers protection and warmth after there bass fry hatch. Grass can be a big key to locating and catching big spawning bass.
Search back water areas that are protected from the wind and gets plenty of sunshine. These areas have clearer warmer water and it allows grass to grow faster. These areas offer plenty of food, shelter and the right habitat for bass to spawn.
Try flipping and pitch jigs or soft plastics in and around any grass you find. Sometimes
bass will be on the outer edges of the cover and sometimes bass will be in the thickest nastiest part of the grass mat. Start out by flipping and swimming a jig around the outer edges of the grass. If that doesn't work always have a punching rod ready with a 1/2 oz up to a 1 oz tungsten weight paired with a compact soft plastic craw or creature bait and heavy braid. This combo can be deadly when fishing heavy grass and cover. Also when fishing grass try concentrating your efforts in transition areas. Transition areas are places where two or three types of grass or cover meets. It gives the bass the best of both worlds and it will help you pattern what bass are holding on on that given day.
If fishing grass isn't your thing the Northshore area provides anglers with a ton of options that will also hold spawning bass. A lot of the Northshore bayous and rivers have a ton of man made structures on them. They have boat slips, docks, rock and bulk heads that an angler can target. These areas offer a hard bottom, protection, and warmth for spawning bass. These are key ingredients to find bass during this time of year. Fish jigs, soft plastics, spinnerbaits and square billed crankbaits around these areas. Bass will hold tight to any cover or structure in these areas. Fish slow and cover these areas thoroughly. Also be on the look out for something I like to call "saw dust''. It's a brown film that packs in the back corners of these slips and boat docks. It comes from trees and pollen and for some reason bass are attracted to this big time. It offers cover in these areas, and bass are drawn to it. Anytime I can find "saw dust" on the water you can almost bet a bass will be holding around it.
Spring time is finally here! Its the season that bass anglers wait all year for. So get out there and get 'em! I hope these tips help you on your next outing. Be safe on the water and good luck fishing!
---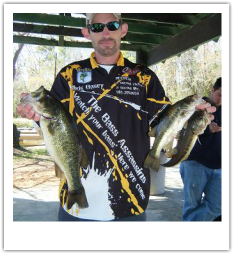 Its that time of year! That time where the fish are staging to move back into the bayous. With living in the south we are blessed with a longer spawning season. The weather slowly gets warmer, and the water never really gets that cold during the winter. For the most part bass will be starting to feed up on anything that passes by them. Some bass however will already be back on the flats. The smaller males looking for that perfect bed to entice a female. The bigger females will be cruising around checking out the line up of males for the year. While beds can be anywhere, the majority will be on the northern banks of a open body of water. With each moon there will be more, and more fish moving up from now through April. I would start at the mouths of bayous with deep water in the middle, and good hard bottoms along the bank. As far as lures, Crank baits, topwaters, worms, jigs..... Pick one! For the next couple months the fish will be in many stages and you can't go wrong with any lure. If you have a lure you don't have confidence in due to not catching fish on it. Now is the time to throw it. I would start looking for feeding fish. Both in the middle and the bank. Basically right now you want to cover water and keep an eye out for beds while you do. As the month starts it may be a little slow, but it will soon be a free for all. Good luck out there!


---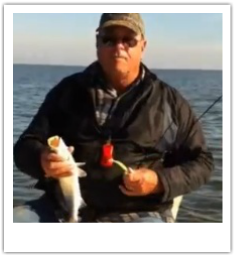 January has come and gone and now it's time to focus our attention to the hopefully warming waters of Lake Pontchartrain. While February presents some problems for saltwater anglers, there are some places I have had success with over the years.

The Rigolets is messed up right now from the muddy, cold, Pearl River water. Try deep spots around the L&N train bridge at Lake Borgne with dead bait on the bottom where the clean, salty water might be, ie (fenders). The shallow cuts off the pass are not clean enough.

Geohagons is hit or miss in February. It's a nice place to go if your just looking to feed the tightline habit. I have caught some green trout in there too. Fish the entire canal and lagoon.

Deep passes off Lake Catherine , St Catherine pass, Blind Rigolets(AKA little Rigolets), Millers ditch, unknown pass. Jig the bottom in 15-20' of water. Fish with the tide coming at you through the trestle a little ways off the trestles. You need a slow or changing tide to fish these. Beware of lots of snags! Don't cast and drag!

Another option is Unknown Pass at Lake Borgne. Light tide drift the straight part from the lake to the first turn. Fish the the deep water (15-18') cast and let it get to the bottom and twitch.

Try all the cuts and canals along the intercoastal water way from the Rigolets to the MRGO. Try to find clean water . Reds are back there ,getting to them may be a challenge. Most inlets have shallow water at the entrance from the ICWW. Use your trolling motor if necessary.

Try the flood wall at MRGO on both sides and rocks along MRGO both sides. I don't go into and fish the HOT WATER CANAL itself. I fish the rock shoreline in the Michoud slip. It is the bay next to the hot water canal. Try the drop offs long the ICWW.

Bayou Biloxi should hold some fish in February. Try the deep canals and passes between Lake Borgne and Stump Lagoon. If the water warms above 55 try the bays and lagoons with a poppin cork. It's been known to fish the deep side of the turns in Bayou Biloxi itself, when the traffic isn't too bad.

February is a tough month for catchin, but it feeds the habit waiting for spring and still a good chance to catch some nice trout and reds. Trade your anchor in on a good trolling motor and stay on the move. Bayou Biloxi and MRGO area are by far the best bets, but if your stuck for time the others are nice too!

High Hopes, low expectations!


---