The Florida Parish Bass angler's rolled into downtown Lacombe for their March club tournament and the teams that showed up were greeted with a cool front with rainy conditions at blast off.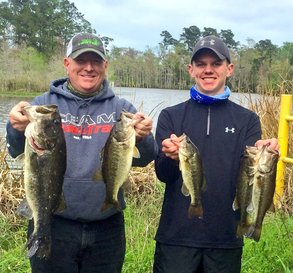 As the day progressed the rain subsided and a strong north wind blew for the rest of the afternoon making for some unpleasant conditions for all. With the full moon cycle during the tournament weekend a lot of the fish were in a guard mode rather than an eat mode according to several anglers that reported fish just swiping at their baits throughout the day. As is the case with this group of anglers fish will be brought to the scale and as 3pm rolled around that was evident again, below is a rundown of the top 3 teams.

1st Jason & Trenton Pittman 10.89lbs
2nd Greg Shelton & Phat Tran 9.48lbs
3rd Steve Ruschmeier & Casey Cramer 9.19lbs


The Mister Twister Big Bass of the tournament went to Jason Pittman with a fish weighing in at 5.50lbs and that fish earned him the Big Bass prize money as well as the tackle package provided by Mister Twister.
Three tournaments in to the 2017 season and several teams are bunched at the top as they chase the Regis Radiator Angler of the Year title so stay tuned to see how it all plays out over the year
With over half of the season still ahead of us it's not too late to submit an application for membership, just go to our website
www.fpbassanglers.com
and look for the application tab. Any questions can also be emailed to us at
info@fpbassanglers.com
as well. The next tournament is set for April 8th on the Tchefuncte River launching at the 4th Street Landing in Covington and please remember all new members will need to have an application submitted for approval 7 days prior to fishing their first event with the club.
The FPBA would also like to thank Mister Twister, Source One Industrial Services, Louisiana Cat, Regis Radiator and Stalker Tackle for coming on board as sponsors this year. If your business would like to partner with one of the largest clubs in the area please email us at the address listed above
​