​During the early morning hours of February 25th, excitement filled the air as 32 teams launched their boats for the first points tournament of the Liar's and Lunker's 2018 spring and summer series. Unfortunately excitement wasn't the only thing in the air. Gnats , No See Ums, Midge's or whatever you call them were thick. Don Dubuc has often said that Amber Romance from Victoria's Secret works great as a repellent for those little pests that would make a preacher curse. I've never tried it, but after Sunday, I may just have to.
Despite the No-See-Um's and storms in the area, big sacks of bass once again made their way across the scales at the end of the day. The northshore has been turning out some remarkable stringers recently and Sunday was no different. The top five teams and big bass winner were as follows:
1st 15.81 pounds Danny Giovingo Nick Giovingo
2nd 14.88 pounds Charles Dauzat Mark Mohr
3rd 14.49 pounds Eric Ciko Mike Maggio
4th 11.04 pounds Cody Ousley Maegen Ousley
5th 10.17 pounds Matt Lee Jay Breland
Big Bass 4.83 pounds David Priddy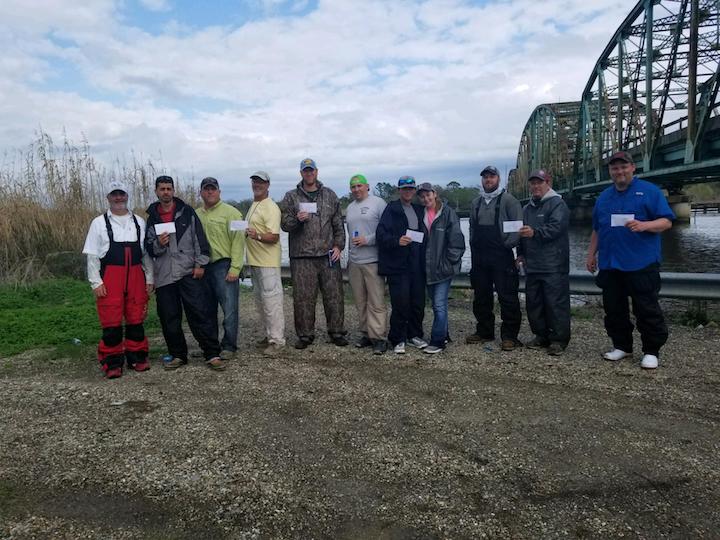 Danny Giovingo, Nick Giovingo, Charles Dauzat, Mark Mohr, Eric Ciko, Mike Maggio, Cody Ousley, Maegen Ousley, Matt Lee, Jay Breland, David Priddy,
​The next Liar's and Lunker's tournament will be March 25th at Poole's Bluff. Thanks to everyone for making these tournaments so successful. For more information, please contact Chad Hartzog at (985) 502-3217.
Power Rankings points awarded as follows: Danny and Nick Giovingo 32 points each for first place. Mark Mohr and Charles Dauzat 16 points each for second place and Eric Ciko and Mike Maggio 8 points each for third place. Congratulations to all the anglers finishing in the top three in this event!
​