The FPBA held it's July tournament on Sunday, July 12th, launching out of Crawford's Landing on the West Pearl River. Anticipation was high as the 36 anglers launched their boats and gathered along the river bank waiting for daylight to arrive. Recent tournaments in the area saw some good bags come to the scales. In fact, it's been taking around 10lbs to get a check lately. That was the good news.

As safelight approached and anglers began making their way to the river's edge, it became obvious that the river had risen close to a foot overnight. That was the bad news. With off colored water and increased currents, all bets were off on productive patterns from earlier in the week. Judging by the number of boats heading south,
the majority of the field recognized the change and opted to fish the marsh below Hwy 90, which offers some relief from the high, muddy, and swift river water. One drawback to fishing the lower end is the lack of shaded areas, and once the sun cleared the horizon, heat became another factor to deal with.

Reports varied between those who caught fish most of the day, and others who struggled to put any keepers in the boat. At the 3pm weigh in, only 7 limits were brought to the scales. Results below.

1st Place Patrick Engerran & Bailey Madere 5 fish 9.19 lbs
2nd Place Ronald Pierre & Chris Basey 5 fish 8.47 lbs
3rd Place Steve Ruschmeier & Casey Cramer 5 fish 8.42 lbs
4th Place Corey Wheat & Branden Sheridan 5 fish 8.19 lbs


The Mister Twister big bass award goes to Cal & Dow Williams with a nice 4.72 lb bass. See attached video for the story on how they landed the big bass, along with techniques used by the winning anglers. Congratulations to all the winners.



The FPBA extends a special thanks to the following sponsors:
Dr Charles Genovese, Jr., who supports 4th place with (2) $20 Academy gift cards at each FPBA event.
Frog Bone Cajun Sauces, who supplies a variety of cajun seasonings, which are given as door prizes at weigh in.
Stalker Fishing Lures, who supplies gift cards and merchandise given out at weigh in.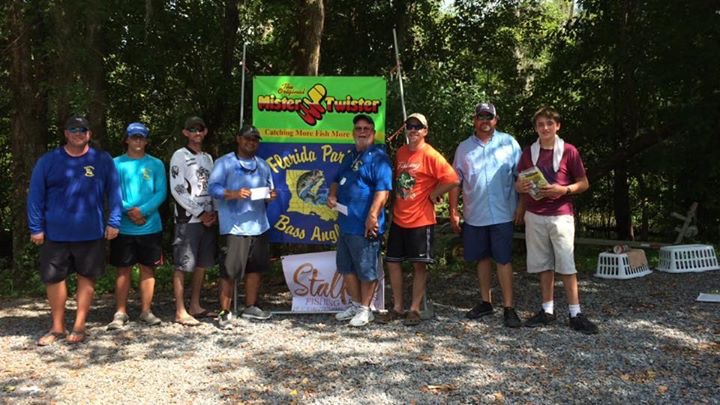 Patrick Engeran, Bailey Madere, Chris Basey, Ronald Pierre, Steve Ruschmeier, Casey Cramer, Cal Williams, Dow Williams
Additional Tournament Stats below:

Number of anglers 36
Number of fish caught 50
Total weight 76.65 lbs
Avg # of fish per angler 1.39
Avg fish weight 1.53 lbs
Number of 5 fish limits 7
Total Payout $670

After 9 events, the top 5 in AOY standings are:
1. Steve Ruschmier & Casey Cramer 832 points
2. Richard Bennett & Lashaun Robertson 776 points
3. Jean Junius 768 points
4. Forrest Green & Al Duncan 722 points
5. Darren Welch 720 points
Our next tournament will be Saturday, August 8th at Manchac, launching out of the public launch under I-55, hope to see everyone there.
For info about FPBA, contact Kevin Williams (985) 502-6146, email
mkalw1990@gmail.com
or Patrick Engerran (985) 474-6112, email
pengerran@yahoo.com
Also, please see our website at fp
bassanglers.com
and like us on Facebook at Florida Parishes Bass Anglers.