Once again the Bass Assassins anglers were faced with a week of rain along with rain during the day. It just seems like this rain will not stop on Bayou Liberty. It was hard to find productive water. People were shuffling around from spot to spot to try to find the fish. Eric Ciko managed to put together a 10 lbs. 4 oz. limit to claim first place. Eric also won big fish with a 4 lbs. 4 oz. kicker. In second was Christian Pichon with a 8 lbs. 3 oz. limit. Jimmy Dorris took home third place with a limit weighing 7 lbs. 13 oz.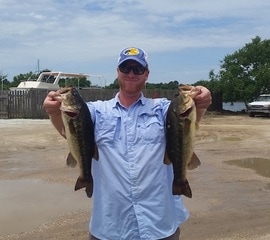 ​4th: Tyler Bunn 5 fish 7 lbs. 4 oz.

5th: Chris Basey 5 fish 6 lbs. 15 oz.

6th: Timmy Dickens 5 fish 6 lbs. 14 oz.

7th: Bruce Dickens 5 fish 6 lbs. 12 oz.

8th: Gene Perilloux 4 fish 5 lbs. 15 oz.
9th: Cody Ousley 4 fish 4 lbs. 13 oz.
10th: Joe Picone 3 fish 3 lbs. 10 oz.
The next tournament is set for June 18th. on Bayou Lacombe. If you have any questions you can call Chris Basey at 985-707-7857 or email
bassassassinsla@gmail.com