17 teams showed up for a stormy start to a Saturday tournament. 1st place went to Barret Brayson and Cody Ousley with 13.14 pounds. 2nd place went to Nick and Danny Giovingo with 13.4 pounds, also winning 2nd place big bass with 3.12 pounds. 3rd place went to Mark Mohr and Charles Dauzat with 12.4 pounds. 4th place went to Cameron Wagner and Brandon Lossett with 11.12 pounds. 1st place big bass went to Christian and Rustin Beaudette with a nice 4.4 pound bass.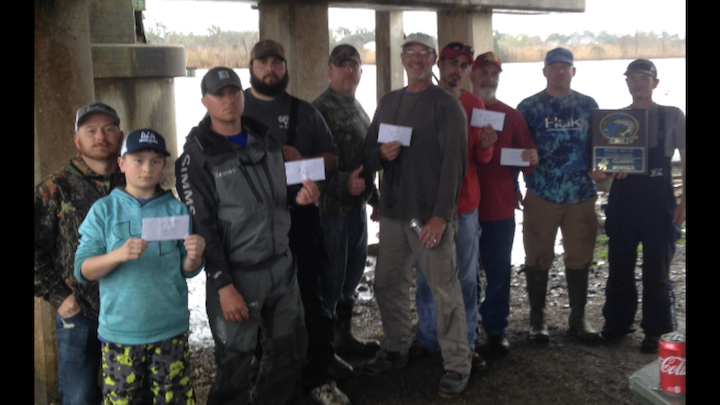 Rustin Beaudette, Caleb Beaudette, Cameron Wagner, Brandon Losset, Charles Dauzat, Mark Mohr, Nick Giovingo, Danny Giovingo, Barret Brayson, Cody Oulsley
Our next open tournament will be the second Saturday in March. We have a 100% payout on our tournaments and all boats are welcome. Please send me a message if you would like more information about any of our tournaments. 985-960-6936
Power rankings points awarded as follows: Cody Ousley and Barret Brayson 17 points each. Nick Giovingo and Danny Giovanni 8.5 points each. Mark Mohr and Charlie Dauzat 4.25 points each. Congratulations to all the finishers in the top three places!

​