I'd like to announce a new sponsor to the Northshore Bass Series. Frog Bone Cajun Sauce will be sponsoring two local bass anglers for this season.
Owner Keith Jenkins AKA "Boudin Man" was raised on the north shore of New Orleans in Madisonville where their source for seafood came from the lakes, bayous and rivers.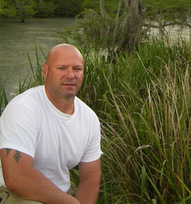 As a kid, he and his grandfather would stay on his houseboat on the "Tchefuncte River" and catch a mess of catfish, clean them up and have a good ole' fish fry with family and friends on weekends. Frog Bone Cajun Sauces include Bayou BBQ, Bayou Glaze, Spanish Moss, Bayou Remoulade, Bayou Cocktail,and Cajun Pepper Sauce. They also have cajun rubs and mixes, Apple Strawbanero Ghost Pepper Preserves, and Fire Roasted Salsa. Don't forget the Frog Bone Cajun Seafood Boil for your next crawfish boil! Check out their website for more information about their fantastic sauces at
frog-bone.com
or give them a visit at their
facebook site
!

Frog Bone will be sponsoring Todd Stein and Kevin Williams this NBS Season. Congratulations to Todd and Kevin on the duel sponsorship!