As we pulled up to the launch we were reminded that it was the 4th of July weekend. The parking lot was full of big trailers and trucks for all the big race boats that stayed out over night. It was apparent we were going to deal with a lot of boat traffic. Just another obstacle for the 11 anglers and one youth to over come, and that they did.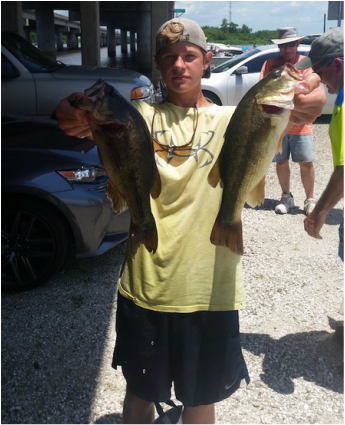 It was apparent that fishing was good for most by the fish they caught but when you talked to them they all said the same thing. It was tough. Gage Wagner fished out of the back of his cousin Cameron's boat to claim first place. Gauge managed to bring in three beautiful bass to total 6 lbs. 2 oz. Cameron Wagner was close behind in second with a limit weighing 5 lbs. 11 oz. In 3rd was Chris Basey with 2 fish totaling 4 lbs. 13 oz. The big fish of the day was a 3 lbs. 4 oz. beauty brought in by Barrett Saundrs narrowly beating out two other bass that went 3 lbs. 2 oz. brought in by Gauge and Chris. In the youth division we have a rising star in the fishing community Payton Waller who brought in three beautiful fish to total 5 lbs. 1 oz.
Other anglers who weighed in:
4th: Barrett Saundrs 2 fish 4 lbs.
5th: Gene Perilloux 2 fish 3 lbs. 4 oz.
6th: Eric Ciko 2 fish 2 lbs, 12 oz.
7th: Joe Picone 1 fish 2 lbs. 8 oz.
Richard Bennett 2 fish 2 lbs. 8 oz.
8th: Jim Waller 1 fish 2 lbs. 5 oz.
Patrick Engerran 1 fish 2 lbs. 5 oz.
The next tournament will be on Lock 1 July 17th. If you have any questions you can call Chris Basey at 985-707-7857 or email
bassassassinsla@gmail.com