It was a beautiful day on Bayou Liberty Sunday for the 30 anglers and 1 Little Tangler. The weather had been great most of the week setting things up to be a slug fest. However the High pressure changed things around. Most predictions at the launch was it was going to take 12 lbs. to win. Well we still had some good weights but did not get the bags we all figured were going to come in.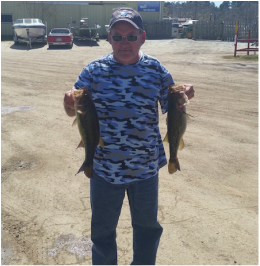 Regardless of the tough conditions we all had to fish them, and Gene Perilloux out managed to bring in the biggest sack. Gene had a 8 lbs. 13 oz. limit anchored with two 3 lbs. 6 oz. kickers. Gene ended up taking first and big fish honors home with the beautiful bag of fish he had. In second was Will Henry with a 8 lbs. 1 oz. limit. Third was Ronald Pierre who managed a limit weighing 7 lbs. 6 oz. Patrick Engerran had a 7 lbs. limit to claim fourth. Finally Jimmy Dorris sponsored by
GotchaDecals.com
rounded out the top five with a limit weighing 6 lbs. 13 oz. In the Little Tanglers division was Payton Waller with a Little Tanglers limit weighing 3 lbs. 3 oz.
6th: Sam Abney 4 fish 6 lbs. 8 oz.

7th: Danny Giovingo 4 fish 5 lbs. 11 oz.

8th: Blake 4 fish 5 lbs. 9 oz.

9th: Bill Dorris 5 fish 5 lbs. 7 oz.

10th: Chris Basey 5 fish 5 lbs. 6 oz.

11th: Nick Giovingo 3 fis 5 lbs. 2 oz.

12th: Ralph Williams 4 fish 5 lbs. 1 oz.

13th: Will Moore 4 fish 3 lbs. 13 oz.

14th: Travis Young 2 fish 3 lbs. 6 oz.

15th: Mary Dorris 1 fish 2 lbs.

16th: Brad Romano 1 fish 1 lbs. 15 oz.
The next tournament will be held on Lock 1 on 3-20-16. Hope to see everyone there. If you have any questions you can call Chris Basey at 985-707-7857 of email
bassassassinsla@gmail.com