The 2018 season for the Florida Parish Bass Anglers is quickly approaching and we wanted to share several changes that will be taking place this year. The season will kick off in February on the Tickfaw River and the club will fish the second Sunday of each month through November at various locations throughout the Northshore. The only exception to this will be for the May tournament and it will be held on the second Saturday (May 12
th
) due to Mother's Day that weekend. All of the tournaments will be from safelight in the morning at blastoff and check in will be at 3pm. Membership dues are $25 a person this year and that money will go towards the end of the year two-day classic that will be held in the spring of 2019 at a location to be determined. Membership is open to all anglers and the club has done away with the application process that it had used in the past which means that you can show up, pay membership dues, and enter the tournament the morning of the event you wish to fish. Another change includes having no boundaries at any of the tournament locations allowing anglers to navigate to any public waters from the designated tournament launch site during the day and not be confined to a certain area. As you can see there are some exciting changes that will ensure a great time on the water is had by all. Please look around on our website

www.fpbassanglers.com

for the complete rules and other information that might answer any questions that you might have concerning yearly points as well as youth eligibility and scheduled locations. You can also reach us through the "contact us section" of the website with any other questions.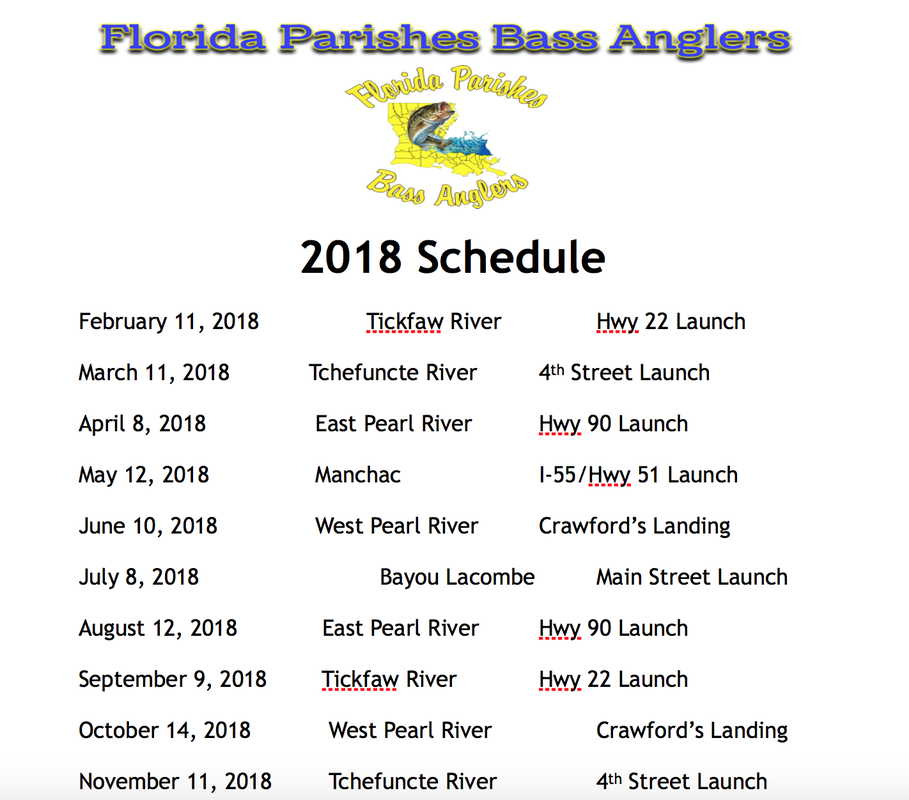 All tournaments are safelight until 3pm on the second Sunday of the month starting in February and ending in November. The May tournament will be held on Saturday due to Mother's Day. No boundaries. $25 membership fee at first tournament goes towards the end of the year classic. $50 entry fee per tournament, can fish solo or as a team. Must fish 6 of 10 to qualify for 2-day Classic in the spring of 2019. Best 8 tournament finishes determines Angler(s) of the Year based on point system.