The third Bass Assassins Classic is in the books and it was a great event. Sixteen anglers of the 21 who qualified showed up to do battle on the mighty Tchefuncte River. At the weigh in after the fish were all weighed in we presented the Angler Of the Year plaque and RP3 tackle pack to Eric Ciko for his wonderful performance during 2016.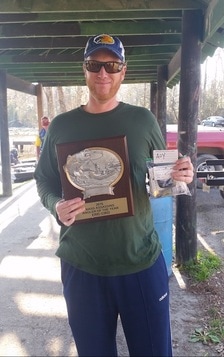 Then Ronald Pierre with RP3 custom fishing lures gave away 4 KVD rods to randomly drawn boat numbers. Now as far as the day went it was a real test to the anglers. A front that past Friday and high pressure on Sunday changed lots of anglers plans. However this is why these anglers are here, because they have proven them selves during the 2016 season. Anglers scrambled around to change patterns to catch fish. It was a grind and it was a Tchefunte River veteran who came out on top. Jason Pittman easily took home the first place glory which came along with the first place money, a trophy, and a RP3 tackle pack. Jason brought in a limit of 11 lbs. 2 oz. In second place was Patrick Engerran with a 9 lbs. 9 oz. limit. Patrick also had a 4 lbs. 5 oz. kicker which also earned him the big fish honors of the day. Sam Jenkins took home third place with a 6 lbs. 15 oz. limit.
4th: Trenton Pittman 5 fish 6 lbs. 14 oz.

5th: Cody Ousley 4 fish 6 lbs. 12 oz.

6th: Eric Ciko 5 fish 6 lbs. 4 oz.

7th: Jared Norris 5 fish 6 lbs. 2 oz.

8th: Gene Perillioux 3 fish 5 lbs. 14 oz.

9th: Ronald Pierre 5 fish 5 lbs. 13 oz.

10th: Chris Basey 5 fish 5 lbs. 10 oz.

11th: Joe Picone 4 fish 4 lbs. 14 oz.

12th: Bruce Vallelungo 2 fish 3 lbs. 4 oz.
​
I would like to thank everyone who came out to fish this Sunday, and Thank Ronald for helping out with the plaque and the give away items. The first regular season tournament will be held on Bayou Lacombe Feb. 19th. If you have any questions you can email
bassassassinsla@gmail.com
or call Chris Basey at 985-707-7857