The Liars and Lunkers kicked off the 2016 Bass tournament season on Sunday, February 21st at the East Pearl River. Twenty four (24) teams came out to battle for cash prizes and bragging rights. Talk at the boat launch before blast off centered around the high, muddy north shore rivers and tough fishing conditions. As usual, despite the challenges, several teams managed to figure out how to catch the bass. Terry Jones and Jason Stevens emerged victorious at the end of the day with an impressive 13.66 pound stringer. The biggest bass of the day, a 4.08 pounder, was brought in by Donnie Hilton and Jeffery Howell. The top four (4) teams received cash prizes and the results are as follows: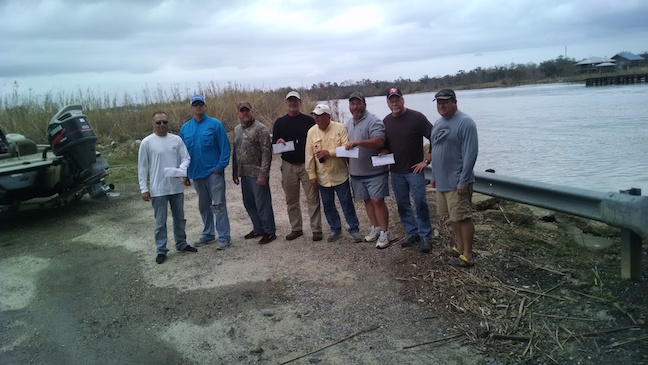 Terry Jones, Jason Stevens, Charles Dauzat, Mark Mohr, Donnie Hilton, Jeffery Howell, James Harris, Chad Hartzog.
The next Liars and Lunkers tournament will be March 6th on the Tchefuncte River. The launch site will be the Fourth Street boat launch. For more information, please contact Chad Hartzog at (985) 502-3217.