28 boats filled the tiny Bayou Liberty Marina launch to overflowing June 11 as the FPBA rolled in for their 6th tournament of the year. Muggy conditions greeted the anglers as summer temps and humidity has set in. As boat numbers were called the club spread out quickly to spots they hoped would provide an early morning bite. As the day wore on a couple of storm cells moved thru the area providing the club with a much needed break from the heat and igniting flurries of bites.
As the sacks starting hitting the scales the 17 limits proved the bite was solid and the fish were chunky. The veteran team of Jean Junuis and John Gillespie brought in the best sack of the day, 5 fish for 12.12 lbs, as they claimed the 1st place check of $526 and remain the hottest team on the northshore this year with their 2nd FPBA win. Richard Bennett fishing solo in this one proved that the layoff with a blown motor did nothing to cool off his sticks as he claimed the 2nd place check of $314 with a great limit of 9.61 lbs. 3rd place went to the always consistent father and son team of Jason and Trenton Pittman with a limit of 9.04 lbs. 4th place went to "Team Consistency" Steve Ruschmeier and Casey Cramer as they once again are in the money with a limit of green trout for 8.59 lbs. 5th place prize sponsored by Tight Lines Bait & Tackle went to Skip Rayborn who has been in the money or close to it in every FPBA tourney this year with a limit for 8.5 and the Mister Twister Big Bass of 3.64 lbs. Skip also claimed the Mister Twister quarterly Points award and will receive a Mister Twister package of $100 in soft plastics. Congrats Skip and thank you to Mister Twister for providing this awesome bonus for our members. 6th place prize of two Louisiana Fish Fry Products gift sets went to another Northshore veteran team, Forrest Green and Al Duncan with a limit weighing 7.99 lbs. Congrats to all the winners!!!!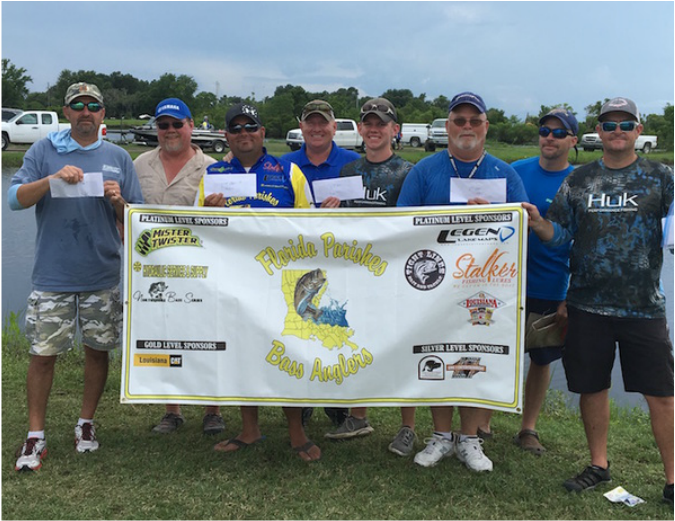 Jean Junuis, John Gillespie, Richard Bennett, Jason Pittman, Trenton Pittmn, Steve Ruschmeier, Casey Cramer, Skip Rayborn
Totals for the tournament were: Total fish weighed 98 Total released 94 Total fish weight 148.62 lbs Ave fish weight 1.52 lbs.


The Legend Cartography AOY race is heating up and changing every tournament as teams rise up and others fall back. At the half way point with no drops this is how the top 6 looks:
Jason and Trenton remain in the top spot with 540 pts. Jean and John moved up one with the win to the runner up spot with 512 pts. Jumping into the #3 spot is Forrest and Al with 490 pts. Tommy and Chad Babin gained to take over the 4th spot with 468 pts. Tony Patti and Derek Allan are 5th with 452 pts and Darren Welch rounds out the top 6 with 448 pts. With two drops the winner of the Legend Cartography AOY awards won't be decided until the final tournament of the year and is looking like a nail biter with several teams close enough that a late hot streak could claim the plaques.


Our next tournament will be on July 10th on the West Pearl, launch site will be Crawford's Landing. Cut off for new member apps will be on July 3rd.


Thanks to all of our sponsors for 2016 and visit our sponsors page at fpbassanglers.com to learn more about them and how to contact any or all of them. Platinum Level sponsors are Mister Twister, Legend Cartography, Tight Lines Bait & Tackle, Hydraulic Services and Supply, Stalker Fishing Lures and Louisiana Fish Fry Products. Gold Level Sponsor Louisiana Cat. Silver Level Sponsor Southern Way Retrievers and Line 7 Entertainment. Thanks always to the North Shore Bass Series and Northshorefishingreport.com for providing us with the platform to keep everyone informed. Thank you to all of our sponsors for helping us to provide the best package of any club in our region. It is a privilege to have all of our sponsors as our partners.


For info to join the FPBA or just to check us out go to our web site at fpbassanglers.com or look for us on Facebook as The Florida Parishes Bass Anglers, Twitter @TheFpba or Instagram at Thefloridaparishbassanglers. Subscribe to our YouTube channel so you don't miss any of our weigh in videos to get the top finishers reports on how they made their money. Contact Patrick Engerran at (985) 474-6112 or email pengerran@yahoo.com or Jason Pittman at (985) 630-3656 for info on joining or becoming a sponsor.