I am proud to announce that Ken's Bayou Archery & Arms of Slidell will be sponsoring Pearl River heavy hitter, Charles Dauzat for the 2016 NBS Season! Ken Kuhlmann's shop has been a favorite among archery enthusiasts on the Northshore since opening his store in 1991.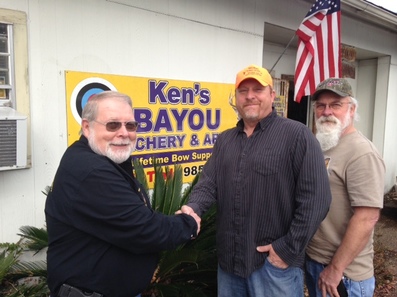 When Lee, the youngest brother, retired in 2000, he joined Ken, and they began selling, buying, and trading guns, to compliment the archery equipment, which both had been shooting since the mid 1950's! makes for over 120 + years, combined, of experience to aid someone in acquiring the proper gun or bow for hunting or just shooting for competition or fun! They have the largest selection of bows in the south including
BowTech, Diamond, PSE, Parker, Browning, Liberty, and Concept.
Ken's Bayou Archery & Arms is located at 1604 1/2 Gause Blvd. West. in Slidell. Give them a call at 985-641-2842 or visit the website at
Ken's Bayou Archery
or visit their
Facebook Page.
Congratulations to Charles Dauzat and thanks to Ken's Bayou Archery for becoming an Northshore Bass Series Sponsor!