The FPBA rolled into Bayou LaCombe on September 11, 2016 with 20 boats filling the Main St. Launch. The pre-dawn talk was all about clear, coffee colored water and where to run to. As numbers were called most of the field headed for Bayou Bonafuca with a few boats heading north. The temps were hot and the air muggy and the bite was tough, for the majority of the field, but not all the boats. As the boats showed back up for weigh in it was obvious from a couple of smiles that not all the boats had bad days.
The Lacombe legends, Forrest Green and Al Duncan, dropped the biggest bomb of the day with a 1
st
place 4 fish sack of 10.59 lbs and the Mister Twister Big Bass of the tournament a 5.23 lb beast of a fish. The duo stayed close and used their experience on the Bayou to bring home their 1
st
FPBA win.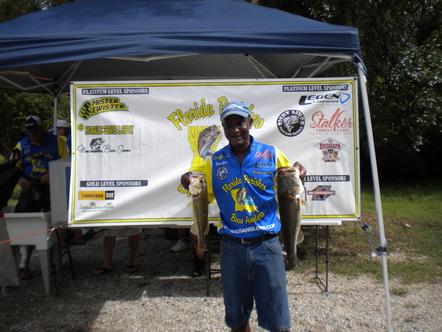 Congrats to Forrest and Al on the win!!!! In 2nd place was the father and son team of Wayne Sr. and Wayne Jr. Richardson with a 5 bass limit weighing 8.10 lbs. The Richardson's made a good choice by staying on LaCombe and running north to the Cypress trees to bring home the 2nd place limit. Darren Welch fishing solo claimed 3rd place with a limit of bass weighing in at 7.42 lbs and will be moving up in points. In fourth place was the team of Barry Galloway and Ron Garic who also stayed on LaCombe and battled back from battery issues to bring in 4 fish weighing 6.66 lbs. The duo claimed the Tight Lines Bait & Tackle sponsored payout and much needed points. Claiming the last money spot was Skip Rayborn with a 5 fish limit weighing 6.33 lbs to secure the Louisiana Fish Fry Products spot.

The Legend Cartography AOY race is heating up as summer comes to end and the fall swing begins. Jean and John are holding down the top spot still but Forrest and Al used their win to move up one spot to take over the #2 spot. Tommy and Chad are 3rd with Jason and Trenton in fourth. Barry Galloway used another strong finish to move into the top 5. The fall swing of the last 3 tournaments will be crucial and with our two drop system it won't be decided until the last tournament on the Tchefuncte River. Look for some lurking in the top 10 to move up and make it even more interesting.


The 3rd Mister Twister Quarterly award was decided at LaCombe and it was a tie!!! Skip Rayborn tied with the team of Barry Galloway & Ron Garic to win the $100 worth of soft plastics. Big thanks to Mister Twister for sponsoring this quarterly award and making every tournament even more important to finish high in.


The FPBA will host an Open tournament October 22 out of Manchac. Entry forms can be found at several local stores or by going to our website and downloading it. Raffle items, door prizes and food will be on tap as well as a payout over $1700 based on 50 boats. There will be no boundaries for this tournament. Sponsors for the tournament should contact Jason or Patrick.


Thanks to all of our sponsors for 2016 and visit our sponsors page at fpbassanglers.com to learn more about them and how to contact any or all of them. Platinum Level sponsors are Mister Twister, Legend Cartography, Tight Lines Bait & Tackle, Hydraulic Services and Supply, Stalker Fishing Lures and Louisiana Fish Fry Products. Gold Level Sponsor Louisiana Cat and Tropical Pools and Palms. Silver Level Sponsor Southern Way Retrievers and Line 7 Entertainment. Thanks always to the North Shore Bass Series and Northshorefishingreport.com for providing us with the platform to keep everyone informed. Thank you to all of our sponsors for helping us to provide the best package of any club in our region. It is a privilege to have all of our sponsors as our partners.




For info to join the FPBA or just to check us out go to our web site at fpbassanglers.com or look for us on Facebook as The Florida Parishes Bass Anglers, Twitter @TheFpba or Instagram at Thefloridaparishbassanglers. Subscribe to our YouTube channel so you don't miss any of our weigh in videos to get the top finishers reports on how they made their money. Contact Patrick Engerran at (985) 474-6112 or email pengerran@yahoo.com or Jason Pittman at (985) 630-3656 for info on joining or becoming a sponsor.
​