The FPBA held it's November tournament out of Manchac on Sunday, 11/9. After a quick check of water level gauges, water temperature, along with tide and solunar tables for the rivers and passes around the Manchac area, one would think that the fishing would be on fire everywhere. With a decent range and falling tide around 8:30am, it set up as a really good fishing day. Unfortunately, somebody forgot to tell the bass. Members reported catching a few short fish, but keeper fish of 12 inches or more were extremely hard to find. There was another club tournament held out of Manchac on Saturday, 11/8, and most of those guys reported very few fish being caught from the Tangipahoa River to the Ruddock canal and all points between.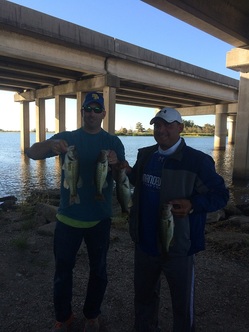 The bite was apparently better east of the Tangipahoa River as was proven by Paul Paille and Scott Andrews. The exact location they fished is a mystery, but they brought in the only limit of bass and trounced the remainder of the 14 anglers by a huge margin. It's nice to know that there were some fish caught, as many members elected to pack it in early without landing a single bass. Below are the results from the 3pm weigh in.

1st Place: Paul Paille & Scott Andrews
5 fish- 6.78 lbs
2nd Place: Derek Paternostro & Darren Welch 2 fish- 1.93 lbs
3rd Place: Wayne Richardson & Patrick Engerran
2 fish- 1.91 lbs

Our next event will be held on Sunday, 11/30 on Bayou Liberty from safelight to 3pm, launching at the Bayou Liberty Marina. For info on membership, contact Kevin Williams (985) 502-6146, email
mkalw1990@gmail.com
or Patrick Engerran (985) 474-6112, email
pengerran@yahoo.com
.
Please visit our website for more info http://www.eteamz.com/fpbassanglers