​18 boats showed up for the March tournament and had to deal with a muddy raging river. At the 3pm weigh in, it was obvious the fish were biting. There were a bunch of 4+ pounders brought in. 1st place went to Charles Dauzat and Mark Mohr with 13.7 pounds, winning $720. 2nd place went to Steve Abney and Blaine Williams with 12.1 pounds, winning $360. 3rd place went to John Pichou with 12 pounds, also winning 2nd place big bass of 4.8 pounds, $320 total. 4th place went to Cody Ousley with 11.3 pounds also winning 1st place big bass with a 4.10, winning $220 total.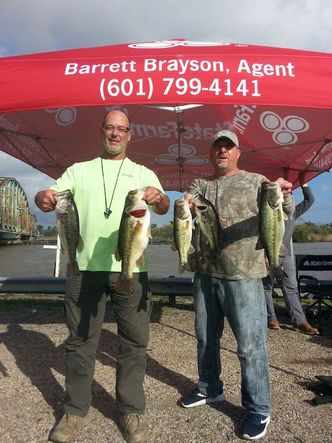 our next tournament will be the second saturday in April. We have a 100% payout and all boats are welcome so come on out and win some big money next month. Any questions please text Charlie at 985-960-6936. Thanks and hope to see everyone there next month.


Power rankings points awarded as follows:
Charles Dauzat and Mark Mohr 18 points each for first place. Blaine Williams and Steve Abney 9 points each for second place. John Pichou 4.5 points for third. Congratulations to all the anglers who finished in the top 3 of this event.