The 2016 bass tournament season is over for anglers on the Northshore of Lake Pontchartrain and with the end of the season comes a new champion. Patrick Engerran of Independence Louisiana was crowned Northshore Bass Angler of the Year for the 2016 NBS Season. For Patrick, 2016 was a tale of two seasons in which he experienced a winter and spring in which he could do no wrong finishing first place in 3 tournaments and finished second and third in numerous others. Patrick started the NBS season off with a win on Bayou Lacombe in the first Bass Assassins tournament in which 29 anglers showed up.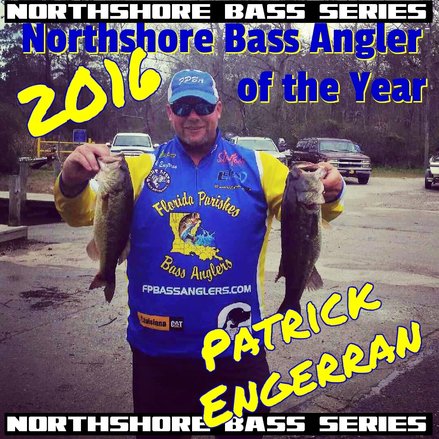 Patrick fished the tournament alone and finished the day with and says that winning was the furthest thing on his mind early in the event. "It started out slow for me that morning. I tried to fish some of the back waters where I thought the fish might be, but by 9:00 it was dead. I think I had one dink in the boat," Patrick says. The persistent angler decided to make a move and headed to a totally different stretch of water. "I went out to the main bayou and found some eel grass. I started throwing a Chatter Bait and they were there! After I caught the first two, I just locked into it and narrowed it down. I could go down a bank and look at it and know if they were going to be there or not. It was pretty specific stuff," he says. Patrick started culling and worked his weight up to what he thought might be a top-3 bag. But the day wasn't over. He made one more stop, which boosted his total weight and his confidence. "It was about 11:00 and it was really starting to warm up so I fished a cut and caught that 4+ lb. fish. When I caught that, I knew I really had a good chance at winning this thing," Patrick says. In the end, Patrick won with a 12 lb. 4 oz. bag, and says without that win, he might not have finished #1 this year. During the upcoming tournaments Patrick rode the wave of momentum generated by that tournament and says "If you're on a streak - you gotta ride it! The more top-3's I got - the more I wanted to fish as many tournaments as I could find. I was pulling my boat up onto the trailer and asking 'where's the next tournament.' It's like you can do no wrong out there! My mindset was that I was going to go there, and I was going to figure it out and I was going to cut a check," Engerran says. Patrick strung together a number of top-3 finishes during the spring and summer and held the #1 spot for 6 months until the Pearl River Team Trails tournament in early December. Charlie Dauzat and Mark Mohr placed first with a 5-fish bag weighing 13.0 lbs. in the tournament which catapulted Dauzat into the first place position with one tournament to go late in the season. The FPBA tournament was held on Tchefuncte River and Patrick needed a first or second place finish to pull back into the lead. Patrick teamed up with tournament veteran Skip Rayborn and the team finished in second place with a 9.37 lb. tournament limit, which moved Engerran back into the #1 spot for the close of the season.
"To finish in the #1 spot really means a lot to me because the it's the best of the best that fish these tournaments and to score points, you have to place in the top 3 in a tournament so getting points is not an easy thing to do. It's quite an honor to be ranked #1," Engerran says. Congratulations to Patrick for finishing the season in the #1 spot in the NBS Power Rankings and good luck to him next year. 2017 looks to be another grueling season on the NBS tournament scene. Engerran will be teaming up with Doug Canoy of Meadville Mississippi.

1- Patrick Engerran

2- Charles Dauzat

3- Steve Hadely

4- Mark Mohr

5- Jason Pittman

6- Cameron Wagner

7- Joel Lee

8- Trenton Pittman

9- Corey Wheat

10- Erik Ciko

11- Jean Junuis

12- John Gillespie

13- Timmy Dickens

14- Morgan Schutte

15- Skip Rayborn

16- Blaine Williams

17- Terry Jones

18- Jimmy Dorris

19- Tony Cooper

20- Dwaine Crumby

21- Gage Wagner

22- Tommy Babin

23- Chad Babin

24- Boby Dampier

25- Scott Mitchell

26- Jim Harris

27- Barry Galloway

28- Ron Garic

29- Wayne Richardson Sr

30- Wayne Richardson jr

31- Bailey Madere

32- Barrett Brayson

33- Jason Stevens

34- Sam Jenkins

35- Cody Ousley

36- Phil Schutte

37- Joe Picone

38- Jared Norris

39- Ronald Pierre

40- Steve Abney

41- Will Henry

42- Chris Basey

43- Roy Laborde

44- Chad Ledet

45- Gene Perilloux

46- Fred King

47- Korey Inscoe

48- Anthony Freeman

49- Tyler Bunn

50- Randy Spiers

51- Reid Rayborn

52- Rob Werder

53- Dan Walton

54- Stephen Crawley

55- Chris Stewart

56- Darren Welch

57- Forrest Green

58- Al Duncan

59- Toni Patti

60- Derek Allen

61- Steve Ruschmeier

62- Casey Cramer

63- Jessie Draime

64- Albert Dobson

65- Kenny Fauntleroy

66- Bryce Ahlborn

67- Steven Sticker

68- Wille Couch

69- Warren Couch

70- Nick Lemmon

71- Tim Polk

72- Tim Bennett

73- Will Moore

74- Clay Zeringue

75- Tommy Cooper

76- Richard Bennett

77- Jay Breeland

78- Jeff Pierce

79- Lewis Ritchie

80- Jordan Dauzat

81- CJ Cousin

82- CJ Pichon

83- Paul Paille

84- Rodney Teal

85- Terry Blackmon

86- Scott Andrews

87- Cody Harris

88- Daniel Schommer

89- Jay Frederic

90- Bobby Fruchtnacht

91-David Howell Sr

92- David Howell Jr

93- Jeremy Ridgedale

94- Reese Watkins

95- Ross Watkins

96- Shane Pope

97- Bruce Dickens

98- Scott Burt

99- Larry Mixon

100- Mark Schommer

101- Danny Giovingo

Congratulations to Jean Junuis on catching the biggest bass of the season. This 6.01 lbs
bass was caught on Bayou Lacombe in March in the Florida Parishes Bass Anglers Tournament. The big bass helped Junuis and his partner John Gillespie, weigh in the heaviest sack of fish in 2017 record stringer that set a club record for FPBA. "It's something I take a lot of pride in. It's hard to catch these size fish on the North Shore and for John and I to bring this in to the scales is something I'll never forget," Junuis says.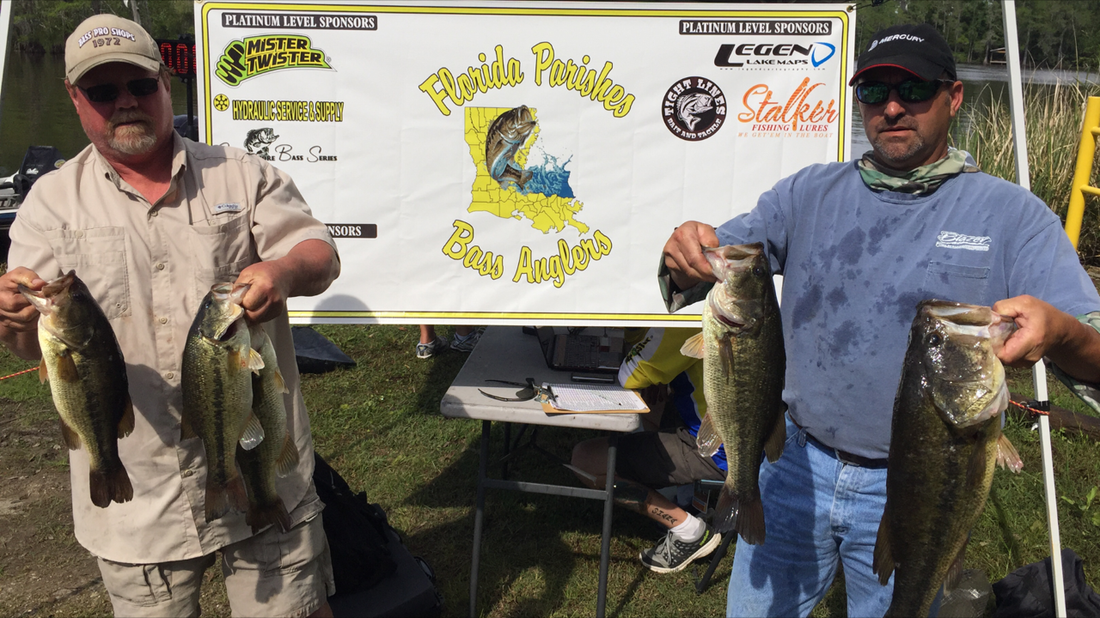 John Gillespie and Jean Junuis win first on Bayou Lacombe. Junuis is shown with his 6.01 lb bruiser that took big fish honors