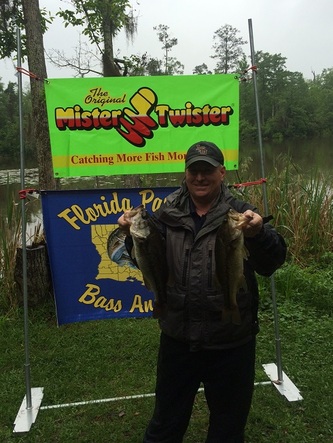 Before we get to the results, the FPBA would like to welcome a new member and sponsor to our organization. We're pleased to announce that one of the most accomplished female anglers on the Northshore, Cindy Davidson Genovese has become the 44th member of the FPBA. Welcome Cindy!!! Glad to have you on board. In addition, Dr. Charles Genovese, Jr. has graciously offered his sponsorship with a 4th place prize of (two) $20 Academy Gift Cards in all FPBA tournaments. For those unfamiliar with Dr. Genovese, here's a little background. Dr. Charles R. Genovese Jr. is a second generation physician who's been in the practice of Internal Medicine for 31 years in his hometown of Independence, La. Combined with his father before him, this practice has been in business for 70 years, treating patients across the Florida Parishes, and is quite possibly the oldest practice in Louisiana. Dr. Genovese specializes in diseases of the Heart, Liver, Lungs, and Kidneys, but also cares for more common ailments such as high blood pressure, diabetes, even the common cold. He also specializes in weight loss. His office can be reached at
(985) 878-4183
and is well equipped to help with any of your medical needs.
The FPBA held it's April tournament on Sunday, April 12th on the Tchefuncte River. Launch site was Menetre Park on 4th street, more commonly known as Old Landing. The weather forecast for the weekend was questionable, but the threat of rain did not deter 23 members from coming out for a day of fishing. And while it rained most of the tournament day, it had not rained much in the days prior, meaning water levels and clarity were not bad in most areas.
Once safelight arrived, boats were called out and each headed out into the rain to favored areas along the river. As the day wore on, there were a few periods of dry weather, but mostly a steady light to moderate rain. Many members reported good fishing, with bass in several stages of their annual spawn. The April moon brought a new wave of spawners into the canals and shallow protected areas all along the river. There was also a falling tide much of the day, which made the fish more willing to cooperate for those who were able to locate them.
The scales opened at 3pm, results below.

1st Place Jason Pittman 5 fish 9.72 lbs
2nd Place Darren Welch & Derek Paternostro 5 fish 7.47 lbs
3rd Place Jean Junius & John Gillespie 5 fish 7.21 lbs
4th Place Barry Galloway 4 fish 6.86 lbs

The Mister Twister big bass award goes to Jason Pittman with a 3.0 lb fish that narrowly beat out a 2.96 lb fish caught by the team of Darren Welch & Derek Paternostro. Congratulations to all the winners.



Additional tournament stats below.

Number of Anglers 23
Number of Bass Caught 48
Avg Bass per Angler 2.09
Total Weight 66.04 lbs
Avg Weight per Bass 1.38 lbs

For a quick video of the winners and techniques used, see FPBA youtube video below.

Our next tournament will be on Saturday, May 9th on Bayou Liberty. Launch site will be the Bayou Liberty Marina, just across the swing bridge, safelight to 3pm. Hope to see everyone there. For info about FPBA, contact Kevin Williams
(985) 502-6146
, email
mkalw1990@gmail.com
or Patrick Engerran
(985) 474-6112
, email
pengerran@yahoo.com
Also, please see our website at
fpbassanglers.com
and like us on Facebook at Florida Parishes Bass Anglers.