Frigid cold temperatures did not stop 22 die hard anglers from showing up to fish the 2nd RP3 Bass King Tournament Saturday the 4th at Heritage Park in Slidell. The low tide on top of muddy and cold water conditions made the fishing tough for the entire field. Out of 22 anglers only 24 bass were brought to the scales.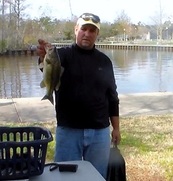 1st place - Lee Hillman 4 fish for 6 lbs 12 oz


Lee took advantage of the early morning bite to sack over 6 lbs on Saturdays RP3 Bass King Tournament. Lee utilized a suspending jerkbait, and a finesse worm for his winning catch. Lee concentrated his efforts along drops that contained scattered Milfoil on the main river channel.


2nd place - Ricky Benitez 3 fish for 6 lbs


Ricky concentrated on fishing one of his many strengths in the tough conditions to land his three keepers for the tournament. Ricky slow rolled a 1/4 oz. spinnerbait along the drop offs on the main river. He also landed a beautiful 3 lbs 2 oz. kicker for big fish on the tournament.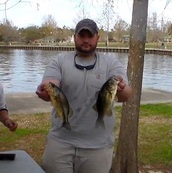 3rd place - Derek Paternostro 4 fish for 5 lbs 4 oz

Derek camped out in one key area all day to finesse his way into 3rd place. Derek fished a 4in finesse worm on a shakey head over a deep water ledge for his bag. Derek concentrated on fishing the shakey head extremely slow for his 3rd place finish.