The FPBA would like to welcome another new sponsor, Stalker Fishing Lures. With a motto of "We get 'em in the boat", Stalker is serious about bass fishing. Born from a family oriented, outdoor loving local group, the folks at Stalker are also serious about sharing their years of experience with customers and teaching both kids and adults about the outdoor experience. As a quickly growing small family business, Stalker offers affordable pricing on bulk tungsten weights as well as hand crafted spinnerbaits. They're also in the process of launching a new line of soft plastics in proven fish catching colors. Please join us in welcoming Stalker Fishing Lures to the FPBA team of sponsors.

The FPBA held it's June tournament on Saturday, June 13th on the sprawling Pearl River system. Launch site was on the East Pearl at the green bridge. With 2 other tournaments launching in the same place, it was crowded to say the least as 41 anglers readied themselves for blast off. As boat numbers were called, the field scattered, with most heading north in search of cleaner water. Recent rains sent a muddy rise down the Pearls just in time to add another level of difficulty to the fishery, but with this many boats, some teams will figure out a way to catch fish.
At the 3pm weigh in, only 7 limits were brought to the scales.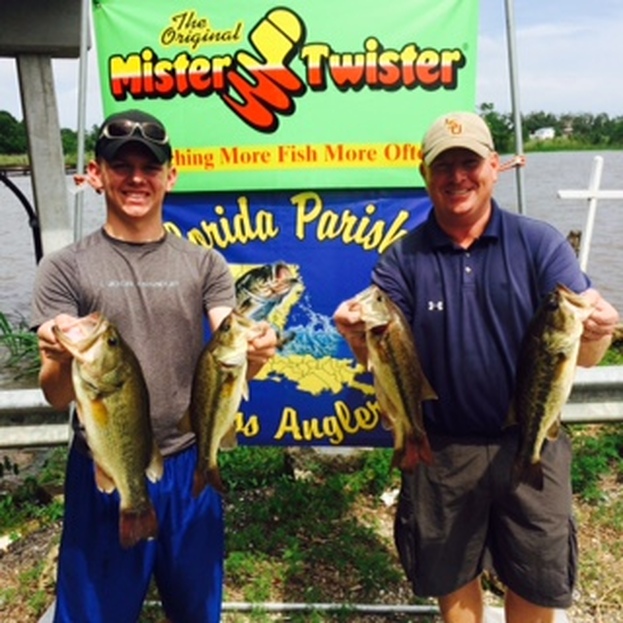 1st Place Trenton & Jason Pittman 5 fish 10.28lbs
2nd Place Steve Ruschmeier & Casey Cramer 5 fish 9.70lbs
3rd Place Bruce Vallelungo & Brandon Mohren 5 fish 8.80lbs
4th Place Darrick Neale & Nick Church 5 fish 6.66lbs

The Mister Twister big bass award goes to Trenton & Jason Pittman with a nice 3.53lb bass. Congratulations to all the winners.

A special thanks to the following sponsors:
Dr Charles Genovese, Jr., who supports 4th place with (2) $20 Academy gift cards at each FPBA event.
Frog Bone Cajun Sauces, who supplies a variety of cajun seasonings,which are given as door prizes at weigh in.
Stalker Fishing Lures, who supplies gift cards and merchandise given out at weigh in.

Additional Tournament Stats below:

Number of anglers 41
Number of fish caught 51
Total weight 76.55 lbs
Avg # of fish per angler 1.24
Avg fish weight 1.87 lbs
Number of 5 fish limits 7
Total Payout $775


Our next tournament will be Sunday, July 12th on the West Pearl, launch site is Crawford's Landing, hope to see everyone there. For info about FPBA, contact Kevin Williams (985) 502-6146, email
mkalw1990@gmail.com
or Patrick Engerran (985) 474-6112, email
pengerran@yahoo.com
Also, please see our website at
fpbassanglers.com
and like us on Facebook at Florida Parishes Bass Anglers.