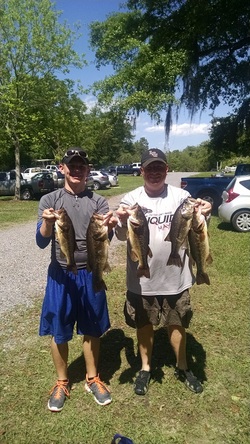 On April 19th, seventeen (17) teams competed in the Liars and Lunkers bass tournament at Crawford's Landing. Even though the rain gear wasn't needed that day, the damage had been done by the heavy rains in recent days and weeks. High, swift moving, muddy water was reported by most anglers who stayed in the Pearl River system to fish. It took a long boat ride in rough water for the father and son team of Jason and Trenton Pittman to win. The Pittman duo brought 12.13 pounds of bass to the scales. According to the Pittman team, they decided to leave the dirty water of the Pearl behind and fished another northshore river instead. Big bass honors went to the team of Kevin Harrison and Aaron Moran with a 5.92 pounder. The results were as follows:



1st Place- 12.13 Pounds
Jason Pittman
Trenton Pittman

2nd Place- 11.31 Pounds
Mark Mohr
Charles Dauzat

3rd Place- 9.88 Pounds
Kevin Harrison
Aaron Moran

Big Bass- 5.92 Pounds
Kevin Harrison
Aaron Moran

The next Liars and Lunkers tournament will be May 17th at the East Pearl River. For more information, please contact Chad Hartzog at (985) 502-3217.