The Florida Parishes Bass Anglers held their 1
st
Classic in Spokane, La at Lake St. John launching from host site Spokane Fishing Resort. The old river oxbow is 2,100 acres and has been cut off from the river since before recorded history. Although small at only 2,100 acres the lake fishes big with many places for anglers to find spots and hide from everyone else. Its cypress tree and dock lined banks proved a fitting location for the clubs 13 qualified boats to do battle over a $4,200 payout and bragging rights until next year. Practice period of two days began on Thursday and the tournament began on Saturday. Practice showed everyone what the lake could produce with many anglers reporting catching 2 lb bass on every stop. Smiles indicated that bigger bass were definitely possible and almost expected.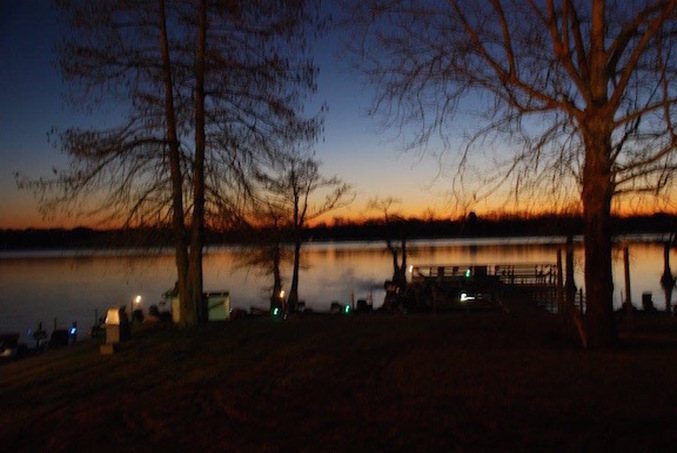 A shotgun start got the Saturday morning started and anglers quickly spread out going north, south and east to spots they had found in practice. When the scales opened the display started lighting up as big sacks were dumped in the sink and put on the scales. The top 8 spots all had over 9.5 lbs and it took over 12 lbs to make the top 4. Jean Junuis and John Gillespie took the day one lead with 13.43 lb sack while Forrest Green and Al Duncan took the day one $50 big bass side pot with a 4.33 lb bass and the big bass lead going into day two. The team of Darrick Neale and Nick Church had 2
nd
with a 12.56 lb stringer. Team Pittman sponsored by
Northlake Oral & Facial
moved into 3
rd
with a 12.49 lb sack. Bruce Vallelungo and Brandon Mohren rounded out the 4
th
spot with a 12.33 lb bag.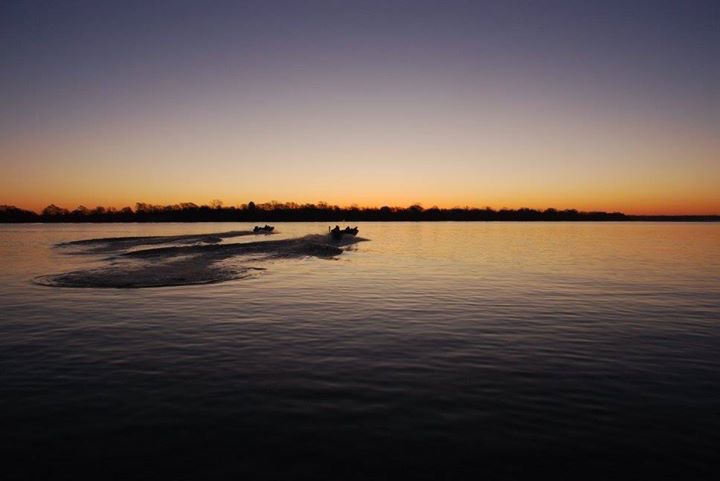 Day 2's forecast of 15 to 20 mph winds had most teams glad to be off the Northshore and not having to decide to run or stay. At over half a mile wide the wind still would play a factor on the old oxbow. By 10 am many teams were scrambling to find a place out of the wind to try and fish more effectively than on the docks and outside trees. Reportedly half the field were in one of the "cypress forest" the lake is known for, giving them a chance to fish without boat control issues and having to aim 5 foot right on every cast. As boats checked in the club decided to do it "classic style" with the lower day one competitors weighing first and working up to the number one spot. It didn't take long for bombs to hit the scales. Patrick Engerran and Bailey Madere dropped a 14.96 lb bomb to take the early lead coming from day one 10
th
place as well as taking over big bass with a 4.55 lb oxbow pig. The lead held till the 6
th
place team of Steve Rushmeier and Casey Cramer claimed it with a bag of 12.32 lbs improving on their day one catch. Steve and Casey started eying the bags coming up and trying to see if the bulges were mostly water or fish. Day one 3
rd
place team of Jason and Trenton Pittman proved their bag was mostly fish as they weighed 12.25 lbs and jumped into the number one spot to stay as the last two teams couldn't repeat their day one performances and dropped spots. Congrats to Jason and Trenton on becoming the 2016 FPBA Classic champs and the first team to hold the classic trophies.
2 Day combined weights:
1
st
Jason & Trenton Pittman
(Northlake Oral & Facial)
10/24.74 lbs $1,738
2
nd
Steve Ruschmeier & Casey Cramer 10/22.71 lbs $1,200
3
rd
Patrick Engerran & Baliey Madere 9/21.81 lbs $786
4
th
Jean Junuis & John Gillespie 9/21.30 lbs $414
Patrick and Bailey picked up another $130 for their big bass + $50 day two side pot.
Thanks to all of our sponsors for 2016 and visit our sponsors page at fpbassanglers.com to learn more about them and how to contact any or all of them. Platinum Level sponsors are Mister Twister, Legend Cartography, Tight Lines Bait & Tackle, Hydraulic Services and Supply and Stalker Fishing Lures. Gold Level Sponsor Louisiana Cat. Silver Level Sponsor Southern Way Retrievers. Thanks always to the North Shore Bass Series and Northshorefishingreport.com for providing us with the platform to keep everyone informed.
For info to join the FPBA or just to check us out go to our web site at fpbassanglers.com or look for us on Facebook as The Florida Parishes Bass Anglers or Twitter @TheFpba. Subscribe to our YouTube channel so you don't miss any of our weigh in videos to get the top finishers reports on how they made their money. Contact Patrick Engerran at (985) 474-6112 or email pengerran@yahoo.com or Jason Pittman at (985) 630-3656 for info on joining or becoming a sponsor. To qualify for the 2017 Classic a member must fish 8 tournaments in 2016 so if you want in next year better be joining now!!!!!