The FPBA fished its latest event on Bayou LaCombe October 11th out of the Oak lined Main Street Launch. The south wind and high tide had the flipping fanatics smiling before launch talking about the bass hiding targets in play for the 25 members that fished the tournament. 15 boats scattered as numbers were called at blast off with boats going north and south from the ramp. When the anglers starting arriving at their first spots they were greeted by clearer than normal water with some being able to see 3 to 4 foot in some places off the main Bayou.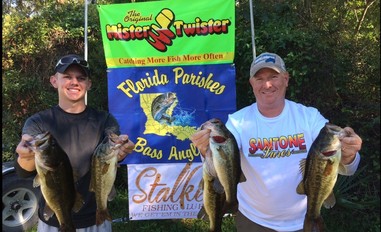 A few members found ways to make the bite work in the clear water while others headed east to Bayou Liberty and Bonafuca in search of some comfort providing color to the water or went north to the cypress trees that provide shade and obvious targets to cast to. At the 3 o'clock weigh in it was a mixture of smiling and mumbling as members were getting their boats out of the water and started lining up to weigh in. Only 5 limits were brought in with a total of 40 fish for 66.53 lbs crossing the FPBA scales. The final results were:

1st Trenton and Jason Pittman 5/11.16 lbs

2nd Jimmy Dorris and Will Moore 5/9.11 lbs.

3rd Wayne Sr. and Wayne Jr. Richardson 5/7.67 lbs

4th Scott Andrews 5/7.04 lbs (Sponsored by Dr. Charles Genovese Jr.)

Mister Twister big bass went to John Gillispie with a 4.11 lb marsh stud


Thank you to our sponsors that contribute to the success of our club: Mister Twister, Dr. Charles Genovese Jr., Stalker Fishing Lures and Frog Bone Cajun Sauces.

Our next tournament will be on November 14th on the East Pearl launching from the Hwy 90 Green Bridge. Find us on Facebook at The Florida Parishes Bass Anglers and our website at fpbassanglers.com to see past results and all info pertaining to the club.

We will be holding our annual meeting Sunday October 18th at the Denham Springs Bass Pro Shops to set our 2016 season. The new rules and schedule will be announced as soon as possible. The New Year will be here before we are ready and the FPBA has big plans for continuing our growth and bringing a great club atmosphere to the North Shore bass scene. Check our web site and Facebook page for updates. Make sure you "like" our page so you won't miss out on news and results.