The Liar's and Lunker's had their second tournament of the 2017 season on March 19th at Crawford's Landing. Twenty nine (29) teams arrived before sunrise to battle for cash prizes and bragging rights. With the West Pearl River still on the high side, most teams traveled to the marshy areas down south in search of big bass. Eighteen (18) limits were weighed in and six (6) bass over three pounds were brought to the scales. The mother and son team of Toni and Caleb Beaudette had the days heaviest stringer at 11.28 pounds. Their stringer also included the biggest bass of the day, a 3.54 pound lunker. The top five teams received cash prizes and are listed below:
1st Place - 11.28 lbs 3.54 big bass Toni Beaudette & Caleb Beaudette
2nd Place- 10.64 lbs Jay Breland & Matt Lee
3rd Place- 10.56 lbs Blaine Williams & Steve Abney
​4th Place- 9.68 lbs Mark Mohr & Charles Dauzat
5th Place- 9.56 lbs Tim Polk & Tim Bennett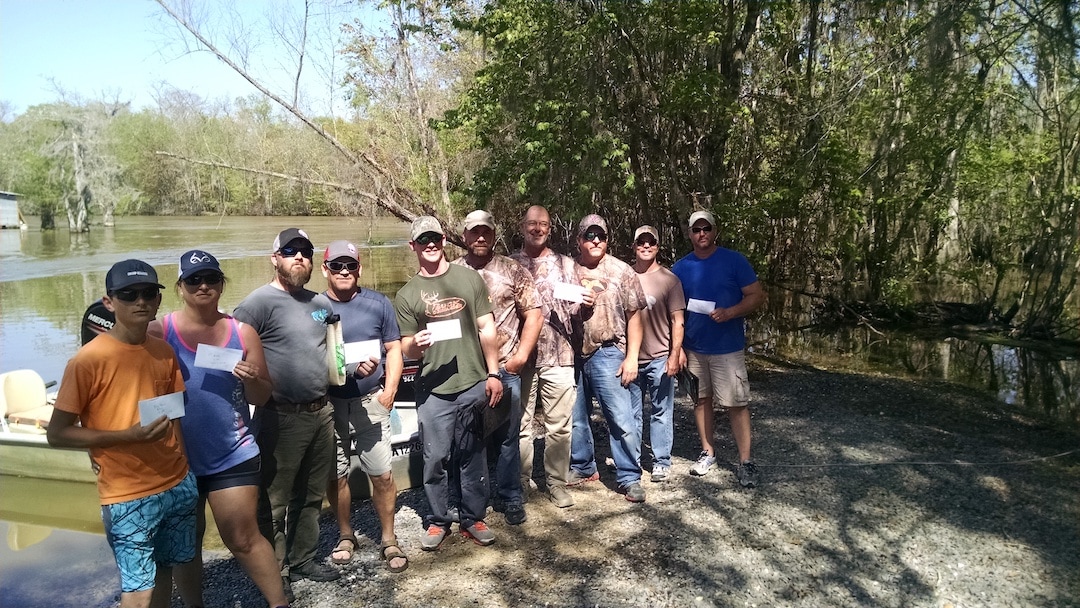 Caleb Beaudette,Toni Beaudette,Matt Lee, Jay Breland,Blaine Williams,Steve Abney,Mark Mohr,Charles Dauzat,Tim Bennett,Tim Polk
The next Liar's and Lunker's tournament will be on April 30th at the Lock One Canal. All teams will fish the canal side only at that event. For more information please contact Chad Hartzog at (985) 502-3217.