East Pearl river was the sight of the last Bass Assassins tournament. The East was not that high but the water was as muddy and flowing as hard as the West Pearl usually does. All the anglers figured it was going to be a tough day on the water but we were all surprised when the bags started to come to the scales. There was some nice limits caught and most anglers said that they had caught plenty of fish. Bruce Vallelungo showed the field how its done when he weighed in his 11 lbs. 11 oz. limit to claim first place. Back in second was Paul Paille with a 9 lbs. 7 oz. limit. Paul's limit was anchored by the 4 lbs. 6 oz. big fish of the day. Third place went to Trenton Pittman with a limit weighing 8 lbs. 15 oz.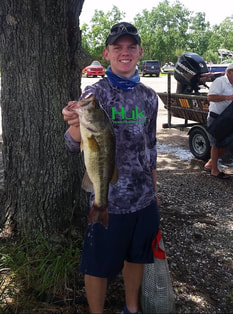 ​4th: Jimmy Dorris 5 fish 8 lbs. 9 oz.
5th: Kenndle Martin 5 fish 7 llbs. 13 oz.
6th: Eric Ciko 5 fish 7 lbs. 4 oz.
7th: Dwayne Crumby 5 fish 7 lbs. 2 oz.
8th: Bill Dorris 5 fish 6 lbs. 15 oz.
9th: Cody Ousley 5 fish 6 lbs. 13 oz.
10th: Brandon Mohren 5 fish 6 lbs. 9 oz.
11th: Danny Giovingo 5 fish 6 lbs. 3 oz.
12th: Payton Walller 5 fish 5 lbs. 11 oz.
13th: Gene Perilloux 4 fish 5 lbs. 1 oz.
14th: Chris Basey 2 fish 3 lbs. 12 oz.
The next Assassins tournament is going to be held on the Tchefuncte River July 16th. If you have any questions you can email
bassassassinsla@gmail.com
or call Chris Basey at 985-707-7857.