Saturday November 7th at the East Pearl River boat launch off of Hwy 90 was the second to last Florida Parish Bass Anglers club tournament for 2015. A total of 16 boats that included 28 members and a guest were greeted by the humidity, a bit of fog and plenty of mosquitos. Everyone gathered near the boat ramp to watch the duck hunters head out into the darkness while the anglers waited for safe light to leave. When the boat numbers were called anglers pointed their boats in just about every direction from the launch site and upon arriving at their first starting spot most found either dirty water, high water or a combination of both.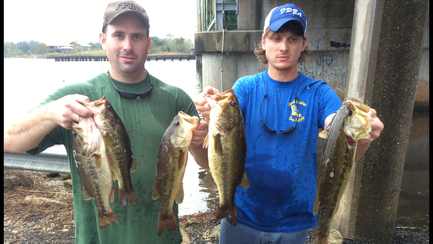 As is the case with this great group of anglers someone is going to unlock the fishery and figure out what needs to be done to win and it was evident at the scales with over half of the field bringing in the tournament limit of 5 bass per boat at the 3pm weigh in. After all the fish were weighed in a total of 66 bass had been brought to the scale weighing nearly 100 pounds before being released back into the water. Darren Welch and Scott Andrews decided to team up for this event making it pay off with a win by bringing a 5 bass limit to the scale that weighed 10.79 pounds and outdistancing second place by almost a pound. In the second place slot was the father and son team of Jason and Trenton Pittman who managed to bring a tournament limit in that weighed 10.01 pounds. Third place went to Jean Junuis and John Gillispie for their limit weighing 9.79 pounds. Rounding out the prize winners was the team of Bruce Vallelungo and Brandon Mohren with a limit weighing 8.56 pounds that included the Mister Twister Big Bass of the tournament that weighed 3.25pounds.

Thank you to our sponsors that contribute to the success of our club: Mister Twister, Dr. Charles Genovese Jr., Stalker Fishing Lures because without their support the club wouldn't be where it is after a year of development.



Our next and final tournament of the year will be December 12th launching from the 4th Street boat launch on the Tchefuncte River in Covington. The coveted Angler of the Year title will be decided at this event. Find us on Facebook at The Florida Parishes Bass Anglers and our website at fpbassanglers.com to see past results and all info pertaining to the club


Next year is quickly approaching and a lot information has already been posted on our website concerning dates and locations as well as information about the Open Bass Tournaments that the club will be hosting. If you have any additional questions you can contact Patrick Engerran (985) 474-6112, email pengerran@yahoo.com or Jason Pittman (985) 630-3656. Also the club is looking for sponsor partners for the upcoming 2016 season and if you or a business you might know of would like to inquire about that possibility you can contact Jason Pittman at the number listed above.