For the first time in weeks the West Pearl River was at a fishable level at around 7.4 feet, according to the Pearl River gauge. That was three days prior to the Liars and Lunkers bass tournament May 17th at the East Pearl River. Between Thursday and Sunday morning, the West Pearl jumped up over three (3) feet and winds had been howling out of the South East at over fifteen (15) miles per hour. Apparently someone forgot to tell Clay Zeringue and Tommy Cooper just how tough the fishing conditions were. The team of Zeringue and Cooper brought in a 14.58 pound stringer to take the top spot. Their stringer included the days biggest bass at 3.94 pounds. Zeringue and Cooper extended their points lead for "Team of the Year" with their third win of the season. The results were as follows:


1st Place- Clay Zeringue & Tommy Cooper - 14.58 pounds
2nd Place- Charles Dauzat & Mark Mohr - 10.90 pounds
3rd Place- Morgan Schutte & Phil Schutte - 8.24 pounds
Big Bass- Clay Zeringue & Tommy Cooper- 3.94 pounds
2nd Big Bass- Kevin Harrison & Aaron Moran- 3.11 pounds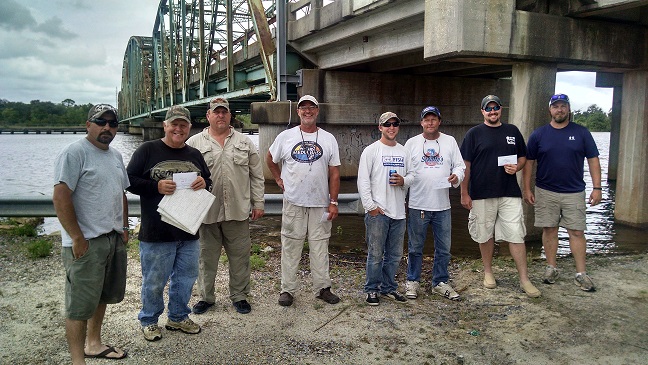 Clay Zeringue, Tommy Cooper, Charles Dauzat, Mark Mohr. Morgan Schutte, Phil Schutte, Kevin Harrison and Aaron Moran.