Every year around this time we see something strange happen in the world of speckled trout fishing on the Northshore. One tributary mostly known for bass fishing gets inundated with speckled trout. If you recall, last year we saw schools of speckled trout in Bayou Liberty as far upriver as St. Genevieve Church. This was brought on by a healthy dose of southeast winds that piled the water up into the bayous for a solid month. It seems history has repeated itself this year as anglers are seeing those same winds push the saltier lake water into these predominantly freshwater tributaries. Last year it was Bayou Liberty. This year it's Bayou Bonfouca! Denham Springs resident Ronald Pierre has been mauling the bass in the Bayou and wanted to put his son Peyton on some fish. The team launched out of Heritage Park and almost immediately started putting bass in the boat." We hit one of the areas where I found fish on my last trip and they were still stacked up under shad schools. On one of his first casts Payton hooked up with a small keeper. While Payton battled his fish I snuck in a cast with a jerk bait and we quickly doubled up. The action was fast and furious for the first hour or so in the morning. As we looked up from battling fish we noticed that the whole area was teaming with schooling bass that were breaking baitfish. There must have been 100 bass or more breaking the surface at once!" Pierre said. Ronald says the fish were so thick that there were bass trying to take the lure from the fish they were reeling in. "I made a long cast for him and gave him the cranking rod. He started cranking then the rod doubled over. I thought for sure he had another good fish but when the fish surfaced we saw two heads!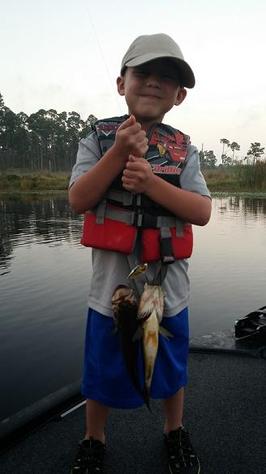 Payton started yelling "I got two of them!" he battled the duo to the boat and I helped hoist them over the rail. We high fived and celebrated his first double on one lure. It was awesome to see my son do that and hear him talk about it all day," Ronald said. The father and son team picked up over 25 bass in the first hour of their trip. Then Ronald received a text a neighbor who was in another boat. "My neighbor texted me and told me that they had found some specks to the north in Bonfouca near Heritage Park. I couldn't believe that the specks were that far north so I went to investigate. As I pulled up to them they were doubled up with keeper specks. They told me that they were working on a solid limit of specks using jerk baits. I motored across to the pumping station and notice fish on my sonar unit. I dropped the trolling motor and notice fish bunched up in the deep hole near the station. I grabbed the drop shot rod with my last few Berkley Gulp Shrimp and I dropped it down to the fish on my sonar," Pierre said. On his first cast Ronald reeled in a keeper speck and soon the team was putting speckled trout into the boat instead of green trout. Ronald says that the key to locating the trout was to find the well-defined drop-offs and hard bottoms. "Those hard bottoms hold heat so the shad relate to those areas to stay warmer and the specks use that opportunity to feed on them," He says.



Tournament Results

In a tough tournament day on the Tangipahoa River Kevin Williams was the only angler able reach his 5-fish limit in the St. Tammany Bass Clubs latest tournament. Williams' limit weighed 8.81 oz. and he won first place. He also won the big fish award with a 3.45 kicker. In second was Derrick Paternostro with 4 fish weighing in at 4.13 lbs. In third was Paul Paille who manages 2 fish for a total of 3.13 lbs.

Bass Assassins held their tournament on the East Pearl and it was Jimmy Dorris who took home first place with the only limit of the day. Jimmy's five fish weighed in at 6.1 lbs. In second was Gene Perrilloux who brought in 3 fish that weighed 5.10 oz. in third was Patrick Engerran who weighed in 4 fish at 4.12 lbs. Joe Picone won the big fish award with a beautiful 3.15 lb. largemouth.

Bobby Newberry won the River Champs tournament on the Tchefuncte with a 5-fish limit weighing in at 11.20 lbs. In second was Kyle Hills with 8.15 lbs. Scott Andrews took home third a total of 8.02 lbs.



Upcoming Tournaments

Bass Assassins is holding their next tournament October, 19th on Bayou Lacombe. For more information please contact Chris Basey at 985-707-7857.

River Champs is holding there next tournament on Sunday, October 12 on the Tchefuncte River. For more information please call Scott Andrews at 540-450-9556.

Florida Parishes Bass Club is holding their next event on the East Pearl River on October 19th. For more information please contact Kevin Williams at 985 502-6146.

The Second Annual UP21 Fishing Rodeo will be held on Saturday, November 1st at Bayou Adventure Bait Shop in Lacombe. For more information please call Cole Landry at 985-778-7788.