Fishing between fronts often poses many problems for anglers here on the Northshore. March can be a turbulent month and a long spell of warm, calm weather can often lull fisherman into a premature feeling that spring is here and it's here to stay! We all have been through it. You have everything ready for that day circled on the calendar only to see another raging front literally throw cold water on your plans. Folsom resident, Jacob Draffen , is no stranger to fishing Bayou Lacombe and says it came into play when deciding where to fish on a day after some serious rain came through. "We had decided to go to Bayou Lacombe because the water seems to clear up better there after a good rain," Jacob said. On their first stop Jacob and his Brother-in-law, Julio Guillen, were disappointed in the water clarity up river. "We arrived around 7:15 a.m. and began to fish the north end of the bayou which, much to our surprise consisted of stained water. We fished there for not even thirty minutes with no hint of a bite so we decided to make the run further south in search of some cleaner water," He said. After fishing a couple of cuts with no success the duo headed for the main river. "We fished a couple of cuts, flipping soft plastics, throwing spinner-baits and crank-baits with no bites. I figured the fish may be in the main bayou so we made a move a little farther south and began fishing a thick grass line with speed-craws and senkos." Jacob found a lay down near the shoreline and began concentrating their efforts on that spot and was rewarded. "On my third cast I got a good bite and set the hook. The bass immediately leaped out of the water and it was a good two to three pound fish! I got it near the front of my boat and it spit the hook! I was disappointed but we at least knew then that we had a hint of a pattern. We proceeded to fish the grass line with soft plastics and caught a few decent fish to add some excitement to our day," said Draffen.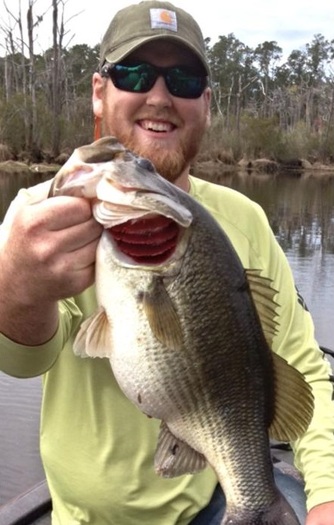 Jacob and Julio came upon some mixing water and he says that's where the trip went from ordinary to special. "As I continued to troll the area, we came up on a section of the cut where the channel swung into another canal where the water was mixing. The boat was sitting in about five foot of water and we were casting into a nice sloping bank of about two to three ft," said Jacob. After a few casts with his speed-craw, Jacob decided to switch things up and picked up his rod which had a spinner-bait tied on it. "On my first cast I threw by a lay down in about 2 ft. of water and a fish absolutely smashed my spinner-bait! I immediately set the hook and the fight was on! The fish started pulling drag and made its way into deeper water," He said. Jacob recalls a moment where he thought he may have lost the trophy fish. "At one point it felt as though the fish had shaken the hook because I felt the line stop pulling, but the fish must have been swimming toward the boat with all of her might. All of a sudden my rod tip bent completely over and the fish nosedived below the boat. I saw a shadow of the monster female bass and told Julio to grab the net! As he went to grab the net I was able bring the fish to the surface and saw how large it actually was. I was so excited I layed down on the front deck of the boat and lipped the fish." Draffen said the moment seemed surreal and he couldn't believe what he had just caught. "When I got her in the boat I couldn't believe my eyes. The large female was slammed full of eggs getting ready to spawn. I immediately yelled, 'What a toad! She's a monster!' My brother-in-law and I exchanged high fives and began to talk about the incredible experience." Jacob said.

March can be a tough month to fish with all the temperature swings, but with it comes the opportunity to catch some of those big bass that you hear stories about. All of the main tributaries to Lake Pontchartrain including Bayou Lacombe hold big bass and now is the time to get in on some serious lunker action!


Frog Rodeo this Saturday and Sunday!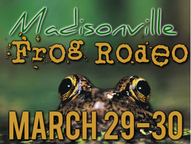 The 1st ever Madisonville Frog Rodeo will take place March 29-30 on the Madisonville River Front. Contestants may sign in from 12 pm. - 6 pm. on March 29th. The weigh-in will take place on March 30th from 6 am. - 12 pm. For more information please contact Misty at 985-390-7338 or Keith at 903-780-2208.



Upcoming Tournaments
Bass Assassins will be holding their next tournament at Crawford's Landing on April 6th. For more information please call Chis Basey at 985-707-7857

Casually Cane Bass Tournament is holding a tournament at the Bayou Cane launch on Hwy 190. No gasoline powered boats are allowed. The tournament will take place on March 29th. For more information please call Lee Kelley at 864-276-6113.