To most fishermen, flounder are considered a bonus fish. Not many anglers set out to catch them but when they do, it's considered lagniappe. John Zeringue made a trip out to Bayou Liberty and it was those "bonus fish" that actually made the trip worthwhile. John and his father launched at the Bayou Liberty Marina and it didn't take long for them to put their first doormat in the boat. "As we were idling out, the depth finder started pinging fish right in the first curve. With plenty of surface activity I decided to shut the motor down and start fishing.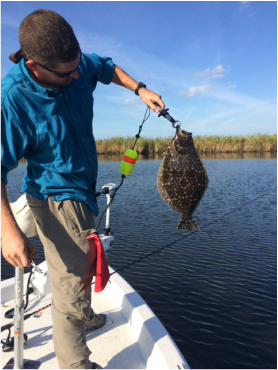 I first picked up a Zara Puppy and worked it top-water for a few casts then decided to switch over a Victory Red Shu-Shu on a 1/8 oz. Trokar jig head. Three casts in I felt steady pressure on my line that wouldn't let go so I decided to give it a quick jerk. I was either going to pull the bait out of whatever it was in down there or set the hook on a fish. Well it turned out to be the latter. After a short fight I put a good 3 lb. flounder in the boat," John said. Next the team put a speckled trout in the boat but then John says he hooked the big fish of the day. "I made a cast with a Vortex Shad across a little grass point and was greeted with a heavy thud on the line and then solid pressure as the fish started swimming away from me with my bait in his mouth. I set the hook and the fight was on! It was a short fight, but it ended with me netting a nice 4 lb. flounder," John said. They ended the day with mess of flounder and John says the big flounder produced more than enough meat by itself. "The big one netted me 4 nice big fillets. I think I got just as much meat off of that flounder as I would have with a few barely legal specks," he said.



Artificial Reef Trust Fund

Anglers across southeast Louisiana will have the option to for or against Amendment 8 in the upcoming election on November 4th. The proposed constitutional amendment on the November 4th ballot would give special protection to money for a long-running state program that turns decommissioned oil rigs into artificial reefs. David Cresson is the executive director of Coastal Conservation Association of Louisiana and says that it's important for fisherman to vote yes on Amendment 8 to prevent money in the Artificial Reef Trust Fund from being diverted to other areas of the state budget. "We are losing habitat at an alarming rate so the protection of this fund would help us to maintain some of that habitat or even build new habitat as we do with these new inshore reefs we've been building. It's very customary for people to look at the list of amendments on the ballot and vote no down the list. We would ask that you take special time to take a look at Amendment 8 and vote yes on it," David says. Cresson also makes a point to stress that this is not a new tax. "This is not tax dollars. We are not asking the tax paying public to create another fund. These are dollars that come from oil and gas companies through a special arrangement with the state where instead of removing rigs from the water they are able to leave them out in the water, put them in permitted reefing spots, then take half the savings they realize from not having to bring them back to land and give that money to the state, "he says.


Tournament Results

It was the team of Blaine Williams and Steve Abney that took first place in the Pearl River Team Trails Tournament on the Pearl River. Williams and Abney managed to bring in a limit of bass weighing 11.10 lbs. In second was Tony Cooper with a 5-fish bag that weighed 11.6 lbs. Cooper also won the big fish award with a lunker that weighed 3.8 lbs. Brett Sellers and Jason Pourciau took third with a total of 10.11 lbs.

Jimmy Dorris won the Bass Assassins Tournament on Bayou Lacombe with a 5-fish limit weighing in at 8.13 lbs. Dorris also managed to win the big fish division with a bruiser that weighed 4.12 lbs. Jared Norris won second place with a total of 6.10 lbs. Zach Zimmerman brought in 4 fish that weighed 4 lbs. even and won third place.


Upcoming Tournaments

The Second Annual UP21 Fishing Rodeo will be held on Saturday, November 1st at Bayou Adventure Bait Shop in Lacombe. For more information please call Cole Landry at 985-778-7788.

The next Liars and Lunkers tournament will be November 2nd on the Lock One Canal. For more information please call Chad Hartzog at (985) 502-3217.

The final Bass Assassins Tournament will be November 2nd at Crawfords Landing. If you have any questions please call Chris Basey at 985-707-7857.