Picture the scene: it's a beautiful February morning. You get to the boat launch just as the sun peeks over the horizon. After backing down the boat you hop in and crank the engine. You look around and make sure everything is secure for blast off. Then you gun it and feel the torque as your prop rips through the water. You don't quite know where you're headed, as long as it's away from the launch. But why? Why is it that the vast majority of fishermen consider the boat launch area unfishable? Maybe it's just a psychological thing. You have a powerful engine and a tankful of gas and by gosh – you're going to use it! Or maybe it's a simple case of thinking the grass is greener, or shall we say, the water is bluer on the other side. Whatever the reason is, the fact remains that anglers are passing over fish every day only to search for fish in a more esthetically pleasing backdrop. Here's something that might just make you think twice before you slam that throttle down. Let's say you like to bass fish on the Tchefuncte River. The 4th Avenue boat launch in Covington will serve as a weighing station for a total of six bass tournaments this month. Now let's say 10 anglers fish each tournament and bring back an average of 3 fish to the scales. That's 30 bass released back into the water at the boat launch for one tournament. Multiply that times six, and you get 180 largemouth bass released at the launch in one month!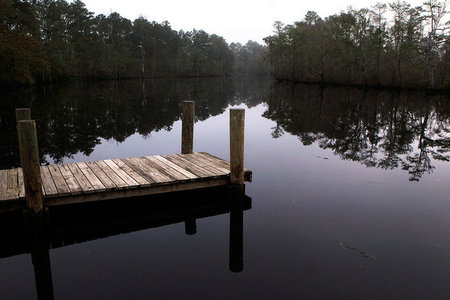 Covington angler John White lives near that very boat launch and says he recalls a trip in which he and his two sons had plenty of success along the shoreline by the launch. "We put the boat in at 4th Avenue and were in a hurry because we got a late start. We had engine problems so I popped the top off of the motor and started tinkering with it. My boys dropped the trolling motor and started pitching the shoreline. I was concentrating on fixing the motor when my attention was broken by a solid 2 lb. bass flipping on the floor of the boat," John says. It took John a little over 45 minutes to fix the motor and by that time his sons had managed 14 bass. Then the team made the mistake of leaving the launch. "I finally got the motor running and wanted to fish a spot that I had success fishing a few days ago," John said. The father and sons made a 15 minute run to John's "hotspot". "We started fishing that canal and after 30 minutes I knew we had made the dreadful mistake of leaving fish to find fish. We couldn't catch a single fish in that canal and was forced in by the darkness. My boys still talk about that trip and blame me for fixing the motor!" he says.




Upcoming Tournaments

Florida Parishes Bass Anglers are having its next tournament on Saturday, February 7th on Bayou Lacombe. For more information about becoming a member please contact Kevin Williams at 985-502-6146 or Patrick Engerran at 985-474-6112.

Liars and Lunkers kicks off its 2015 season with a tournament February 22nd on the East Pearl. For more information please call Chad Hartzog at 985-502-3217.