Construction on the Bayou Bonfouca Bridge may have commuters that want to go over the bridge fuming. But for those who are traveling under it; it's all smiles these days. Bayou Bonfouca has been unarguably one of the best places to catch bass this winter and Slidell anglers Daniel and Roger Sissac can attest to the cold weather bite that has greeted anglers this month. On their most recent trip the father and son duo launched at Heritage Park and headed under the Bridge to their favorite spot for catching perch. "I trolled across the bayou and we started putting fish in the boat. My dad was using crickets, and I was using my Sexee Shad under a cork to coalesce some red-ear sunfish into the boat – We caught them for about two hours," Daniel says.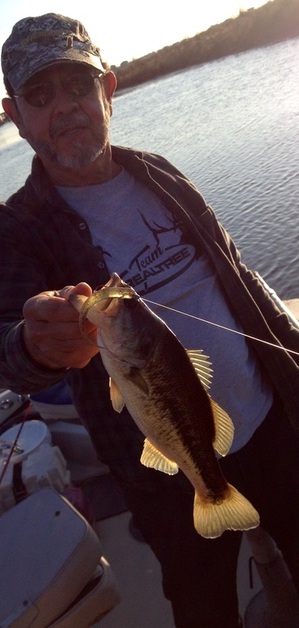 The team caught over 30 perch but Daniel started having an itch that needed to be scratched. "I got antsy and wanted some bass. I grabbed my bass rod with a new, green Shu-Shu and made my first cast with the new color. I was wondering if green was the best choice since the water was stained, but before it could hit the bottom, I felt a tap. I reeled down, set the hook, and landed the first keeper bass of the day," Daniel said. It didn't take long for Roger to abandon his perch pole for his bass pole and within minutes the two perch fisherman had abandoned their trip to concentrate on bass. . "I threw beyond the grass line, but my dad threw to the deeper side of it. I gave the Shu-Shu two twitches and saw a wake moving toward it. I gave it one more twitch and the fish engulfed it. I set the hook and was about to tell my dad that I had a fish, when I saw he had one too. We worked our way down the shoreline catching several more before we decided to head in and call it a day," he said. At the end of the day Roger and Daniel had a limit of bass and a mess of perch that they took back to the house and fried up.



Northshore Specks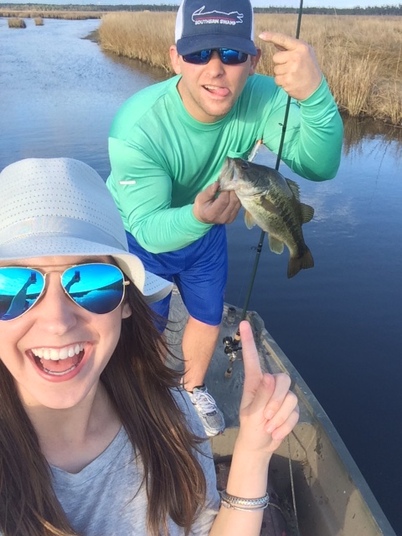 Mandeville resident Zack Liberto has been probing the Goose Point area for early spring specks. February usually brings warmer weather and it's considered a good sign for the upcoming spring to produce trout along the shoreline, but Zack says the trout just aren't there yet. "With February typically being a rough month for trout I decided to give it a couple shots last week anyway. My first trip was an afternoon trip to fish the cuts off of goose point, which doesn't usually hold trout during the winter. I was throwing a matrix shad on a 1/4 oz. jig head as well as a suspending mirror lure. The mirror lure was the ticket. Dead sticking the mirror lure with long pauses was key. I did not catch any trout but with the low tide I did manage to catch 25-30 bass," he said. On Zack's second trip he decided to make a run out to the Causeway and say's the bite was sluggish. "I caught somewhere from 12-15 and I would be lying if I said any of them were over 14 inches. Slowly working the bait on the bottom similar to bass fishing with a jig this time of year was key. I didn't feel many bites - most of the fish were nose down on the bait and as soon as id pick it up they would eat it and knock slack in my line," Liberto said. February specks along the bridge are a good sign that this spring will be productive and Zack says he anticipates an active season coming up. "Get ready fellas because things should heat up at the bridge within the next few weeks," he says.



Tournament Results

FPBA held its second tournament of the year and it was the team of Wayne Richardson and Lee Zachary who took first place on Bayou Lacombe with a 5-fish limit of 11.01 lbs. The team also won the big fish division with a 3.79 largemouth. Wayne says he pre-fished Bayou Lacombe on the day before the tournament and didn't have a lot of confidence going into the event. "I came over Friday for a little while and didn't really get bit so we were going into it blind. I abandoned my original plan and did a complete 180 turn and tried something different and it worked out for us," Richardson said. Wayne and his team mate Lee Zachary started the day off slow but were able to find the fish up-river. "It started slow but we were able to start fishing some flats up the river and that wound up making the difference," he said. Richard Bennett weighed in a 5-fish limit of 6.13 lbs. which was enough to take second place. In third was the team of Derek Paternostro and Darren Welch with a limit weighing in at 5.70 lbs.

St. Tammany Bass Club put on its first tournament on the season and it was Walter Clarion who took first place on the Tchefuncte River, with a bag weighing in at 4.41 lbs. Brandon Fauntleroy took second place with a total of 3.84 lbs. In third was Casey Painter whose 3.48 lb. fish was enough to take the big fish division as well.