While most anglers are waiting for the first cool fronts to trigger the much anticipated fall fishing season here on the Northshore, Mandeville resident Zack Liberto and his family have found a new way to put fish in the boat during the waning days of summer. Zack says his family mostly fishes the Causeway from their 24-ft. Nautic Star but recently he has been focusing on bow fishing the water on the Northshore. "About a month ago I purchased an 18 ft. Go-Devil boat with a 35 Vanguard on the back to upgrade from my old duck boat. I bought it mainly for duck hunting, bass fishing, and fishing inshore within 5 or 6 miles on the Causeway," he says.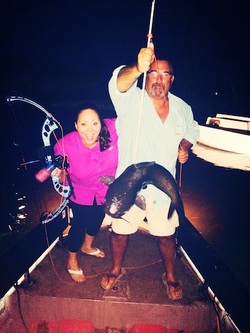 But there is one feature on this boat that adds an entirely new dimension says Zack. "When I purchased the boat it came equipped with a bracket with ten removable LED lights for bow fishing," Liberto says. After only a few trips his family was able to fill the freezer with redfish from their overnight expeditions but lately have he has been doing quite well finding catfish in the Tchefuncte River. "I have been bow fishing in the rice field canal a couple nights a week and have done really, really well with the freshwater catfish. Most nights we shoot anywhere from 15-20 big cats averaging around 10lbs with some 20 and 30lbers mixed in.



Trestles Heating Up!
It looks as if anglers once again have a choice of which fish to target on the Northshore. The salinity in Lake Pontchartrain is on the rise and with it, the speckled trout population! Daniel Sissac and his father Roger have been bass fishing on Bayou Bonfouca and along the Eden Isles Canals this past month but decided to give the specks a try for the first time in a long time. "My dad has been reading the reports and waiting to see some positive ones about specks in the lake. He hates fishing the lake when there are no trout, which is why we mostly bass fish. I was able to convince him to make a run out to the Trestles. I did it by telling him the same thing I tell him every year - Someone has to be the first to catch trout, it may as well be him," Daniel said. The team started out at the south shore of the bridge and worked their way north.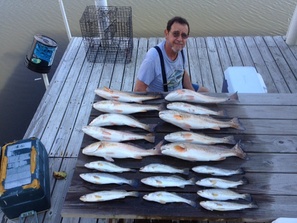 Daniel says they were about to call it quits when Roger hooked a solid fish. "My dad was just about to give up when he got a bite that immediately began taking line! Hearing his drag, I looked over and saw a smile on his face for the first time during this trip. I trolled out a little so the red wouldn't get into the pilings, and then took my station with the landing net. The fish gave a valiant effort but was no match for my dad, and it was the first fish in the ice chest," said Daniel. After trolling within casting distance of the bridge they started catching again. "On both of our first casts we both had a fish! Dad had a keeper trout this time and I had my first red of the morning. He landed his trout, and then landed my red for me. By the time I dislodged the nearly swallowed Shu-Shu from the fish's mouth, my dad had another fish on his line and his pole was now the shape of an inverted "U". There was a pop that must have been audible on the north shore, and although his fish was gone, his smile wasn't!" Sissac said. After losing the fish the team decided to make a change. "We both decided to switch from our 10 lb. mono lined poles to our braid poles. After a quick retie of the Shu-Shu lures we were ready for our next fight, and it didn't take long to find it. With confidence in the braid, I dropped the anchor figuring we could keep the reds out the pilings. We did, and were able to finish a limit in that one spot," he said. Daniel and Roger ended the day with their limit of redfish and ten trout. "We may not have gotten a limit of trout, but it was a good sign seeing the ten keepers we caught. I think it should be easier the next time I say "Hey Dad, let's go try the lake!" Daniel says.



Tournament Results

The father and son team of Jason and Trenton Pittman won the Liars and Lunkers Tournament at Crawford's Landing. The team turned in a limit of bass that weighed in at 11.32 lbs. They also took home big fish honors with a lunker that tipped the scales at 4.16 lbs.

The St. Tammany bass Club held its September tournament on the Tchefuncte River and it was Paul Paille who took first weighing in two fish for a total of 7.18 lbs. In Second was Walter Clarion with a 3-fish bag weighing 3.32 lbs. Kenny Fauntleroy's 3-fish total weighed 3.13 lbs. which was good enough for third place.



Upcoming Tournaments

The next Liars and Lunkers tournament will be held on the East Pearl River on October 5th. For more information, please contact Chad Hartzog at 985-502-3217.

Bass Assassins is holding their next tournament on Bayou Liberty on September 21st. For more information please call Chris Basey at 985-707-7857.

The "Team Brady Strong" Fishing Tournament will take place September 18th – September 20th at the old Madisonville Ballpark. Divisions include trout, redfish, drum, catfish, garfish, frog, and turtle. This tournament is to benefit 9-year old Brady Evans who has been diagnosed with Ewing's Sarcoma, a rare form of bone cancer. For more information please call Misty at 985-590-7338.