March is here and with it comes the weekly warm-ups that come as a welcomed change for Lake Pontchartrain anglers in search of speckled Trout. The Causeway is synonymous with big trout and Mandeville fisherman Zack Liberto says the first installment of specks have moved in on the 24-mile reef. On his last trip to the Causeway, Zack and his uncle Gino caught 14 trout trolling and jigging along the pylons. "I'm not a big fan of trolling but while I was jigging and moving from pilling to pilling with the trolling motor, my uncle decided to hang a MirrOlure off the back of the boat and it was engulfed within five minutes.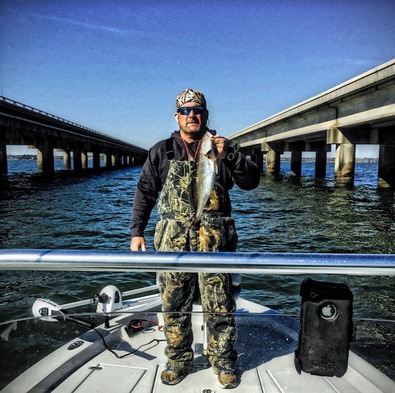 We continued a trolling/jigging pattern for a few hours to finish with 14 specks, and all of them were beautiful size (14"-16"). We were trolling a red MirrOlure and jigging with Matrix Shad in just about any color," Liberto says. With the water temperatures still in the 50's, Zack says it's important to slow everything down. "With the lower water temperatures, trolling slow was the key. Usually I like to stay around the 2 mph range, but we were only getting bites when we were using the trolling motor at a snail's pace," he says. Typically the bridge does better when the water temperatures reach the mid 60's and Zack says he believes things are about to improve tremendously with the warmer temperatures forecasted. "The weather next week looks phenomenal! Sunny and getting up to 80 degrees -things in the lake are about to explode, "he says.



Pearl River Crawfish

With the recent rains that we have endured this month, crawfish farmers are grinning from ear to ear. The fields that they use are filling with water and along with the water, come the crawfish. Central Louisiana crawfish farmer Jared Allen says when it comes to the rice field crawfish "The more water we get means the earlier they come out and the faster they grow." But what about those river crawfish. The Pearl River is a popular Northshore destination for people who run nets every spring. Mandeville resident, Tony Cyprus Jr. thinks there is such a thing as too much water. "I think the high water is a detriment when it comes to the Pearl River area. You don't want it to be too high because that water will move through there and scatter them around," Tony says. Cyprus says he likes to start running his nets after the Lenten holiday. "I like to wait for Good Friday. That's when I usually kick things off," he says. The Honey Island Swamp was good to Tony last year providing multiple sacks of big crawfish per trip and Tony says he expects the same this year. "I think it's going to be a good year for crawfish. You just have to be patient and wait for more favorable conditions. The days are starting to get longer and that means warmer temperatures. Also look for decent water levels. If there's too much water flowing through there it can really affect your trip," Cyprus says.