It's no secret that redfish have monopolized the waters in the Chef all summer Madisonville resident Luke O'Neal and some friends decided to take a shot at putting some early fall trout in the boat for a change. "Three friends and I headed out early to get in on some trout action in the Chef Marsh. We headed up the bayou to the first cut and water was pouring out. A strong NW wind had the tide falling hard. I threw my top-water lure and saw a wake heading for it then Bam! Red missed it!" O'Neal says. The friends continued to get bites but decided to make a move. "We came to the consensus that that's the bites we were getting was from smaller fish so we moved on. The next cut I threw in a Shu- Shu and had a big swirl instantly. I set the hook and bait came flying at me! Half of it was gone! I then caught a nice keeper trout and more small ones. Next cut I let my buddy throw in it with a popping cork hoping to get the red since the last 2 had one in it. Sure enough, cork goes down and red on! Soon as it happened the fish came off. At that point we were all scratching our heads wondering why the reds were getting off and what was up with the small trout.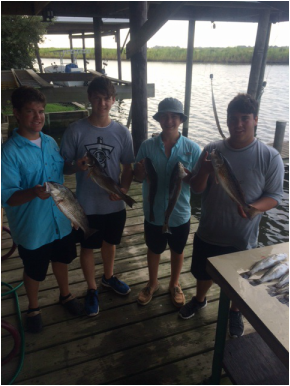 We decided to make a move and went into a dead end canal. Well it helped a little because we starting catching some keeper trout under popping corks and jigging the Shu-Shu," Luke said. The friends then spotted some baitfish on the surface and tried to go a different route. "We saw a school of pogies coming down the canal and my friend threw the cast net. We had more pogies than we knew what to do with in one throw. I thought for sure we would start killing the fish, Nope! They actually were biting the plastics better. Eventually the trout bite died off and we moved over to try a deeper canal with a shell pad in it. The rain came but we decided to stay and it paid off. We caught 4 reds in a row all 16-18 inches. We caught one more red under a cork and decided to call it a day," O'Neal said. When it was all said and done the team ended up with 9 keeper trout but caught 30-40 total. They also mixed five redfish to finish off a nice box of fish.


Sunset Point Catfish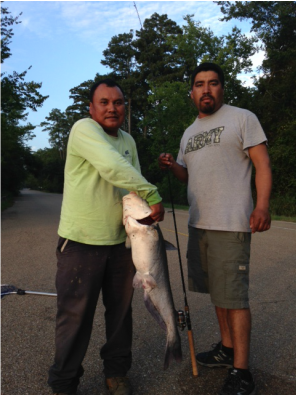 One of the greatest sensations of catching a big fish is the feeling you have after you finally get the fish in the boat or on land. Ranulfo Garcia recently battled a monster catfish in finger canals behind Sunset Point and said he and his friend thought they were done when a 6 ft. alligator decided to help himself to the teams catch. "We had the fish on a stringer in the canal when we heard some splashing. We looked down and saw a big alligator dragging the fish into the middle of the canal," Garcia said. A few days later after the cool front had past the friends decided to give it another shot. They walked to the same spot they had caught the original catfish and ended up catching another one using dead shrimp on the bottom. This time they didn't stick around for the hungry gator to come calling. The team grabbed the fish, dragged it onto shore, and then barreled through the woods back to the street where they were parked. "We were out of breath from the fight much less the run we had to make. This is the biggest fish I have ever caught!" Ranulfo said.


Upcoming Tournaments

The Pearl River Team Trails Tournament will be held on October 11th on the East Pearl River. For more information please call Charles at 985-960-6936.

Florida Parishes Bass Club is holding their next event on the East Pearl River on October 19th. For more information please contact Kevin Williams at 985 502-6146.

The Second Annual UP21 Fishing Rodeo will be held on Saturday, November 1st at Bayou Adventure Bait Shop in Lacombe. For more information please call Cole Landry at 985-778-7788.