With the incredible start to the duck season and the stout trout run that we have seen this fall, sportsman often find themselves debating on whether or not to chase spots or feathers. Mandeville resident Mark Sagerholm chooses to target a different fish that most anglers overlook. "Anyone who knows me well knows that flounder are by far my favorite inshore fish to catch. My Uncle Bob took me fishing for my first time when I was four years old and the fish-du-jour was flounder - I've been hooked ever since!" says Mark. When it comes to flounder in Louisiana, Mark says he's noticed a pattern that translates from how the speckled trout season goes the previous summer. "In my six short years here in Louisiana I've noticed that it seems when we have a crappy speck season during spring and summer that the flounder migration in the fall will be good so I've been looking forward to this fall's annual flounder run," he says.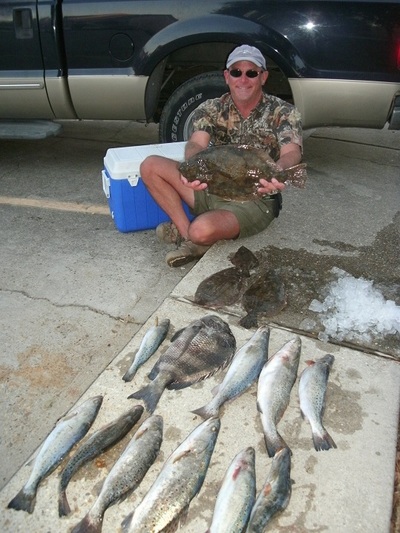 His theory has proven right so far this year as Mark has made many successful flounder trips to the Trestles including a trip where he ended up with six doormats. "I was in full fall flounder run mode and decided I'd fish the north end of the Trestles to see if I could get a limit of flounder. I had a full bucket of fifty live shrimp from the Hwy 11 Bait Shop but screwed up by initially going after my usual addiction of sheepshead," said Sagerholm. Mark says he had six sheepshead in the box when he decided to get back on course and target flounder. "I decided to go over to the west side of the Trestles and begin doing drifts for flounder. I had my patented Suspend-O-Rig on a spinning rod, dead-sticked out the back while I was hand- jigging my bait caster with a Drop-shot Rig, tight-lined to the bottom. I'd paddle about 100 yards away from the bridge, drift back close to the bridge- lather, rinse, and repeat. I had six nice flounder in the ice chest and was confident that I'd limit out," he said. Mark fishes out of a kayak and says the wind began to howl at that point which cut his trip short. He ended the day with six flounder and six sheepshead. Sagerholm refers to the awkward fish as the "Dachshund of the Sea" because they remind him of his dogs. "I've always had Dachshunds and just looking at them makes me crack up. They are the funniest looking dogs. At the same time, they are smart and sneaky. To me, flounder are the funniest looking fish in the sea. They have both eyes on one side of their head and lay around all day waiting for a meal to happen by. They're also smart and sneaky like Dachshunds and once hooked, they are known to spit the hook with ease. A flounder that allows itself to be netted is just lazy," he says. With numerous ways to prepare flounder but Mark says he prefers to prepare them like his Mother does. "Unlike Cajun-style stuffed flounder, this recipe calls for skinning the fillets. I Rub olive oil on each fillet and place them on a cookie sheet. Then I mix crabmeat with mayo, diced onions, some cajun spice, and a few Italian bread crumbs. Next I use an ice-cream scooper to plop the crabmeat onto the fillet, wrap the ends of the fillets around the crabmeat and toothpick them together. Finally I chuck the cookie sheet into the oven and broil it for about ten minutes," Sagerholm says.


Bayou Liberty

The "mixed bag" bite of bass and speckled trout that anglers have seen this fall on Bayou Liberty has carried into November. Floyd Holton recently made a trip to Slidell and launched out of Heritage Park for a little bass fishing on the Bayou Bonfouca but says it was tough going at the start. "We started fishing just out of the landing with cranks, creature baits, and worms and after reaching the bridge with not even a strike, we moved on down past the marina and fished the rocks on the bank line with no luck. We kept moving around to our usual spots with the same results and it started looking like it was going to be another one of those days when the water is beautiful but there is no bite," he said. After trying the lake for 45 minutes Floyd days they made a move that saved their trip! "I've never really fished Liberty before, so we ran a ways up and stopped down from someone anchored. I put on an Ultra-Violet Matrix, and casted out - Bam! First speck! Next cast - second speck! After we put 16 specks in the boat it slowed down so we moved on searching for more. We got on a run-out and both picked up a few bass and specks but after twenty minutes, we decide to call it a day," Floyd said. Holton says they were starting to pick up when he made the notorious "one last cast." "While my friend was picking up the trolling motor I made one last cast and landed a 15" speck. He looked at me, grabbed his rod, threw in the area and pulled in a bass. It's was on again just like a switch!" He said. The team ended the day with 28 speckled trout and 18 bass and says it was a long day but their persistence paid off.



Upcoming Tournaments

The RP3 Bass King Tournament will take place on December 7th at the Heritage Park Launch on Bayou Bonfouca. For more information please call Ronald Pierre at 985-991-3681.

Florida Parishes Bass Anglers are having their next tournament on Bayou Liberty on Sunday, November 30th. For more information about becoming a member please contact Kevin Williams at 985-502-6146.

The Pearl River Team Trails is having its next tournament on the East Pearl on December 13th. For more information please contact Charles Dauzat at 985-960-6936.

The next Liars & Lunkers Tournament will be December 14th at Lock One. For more information please call Chad at 985-502-3217.