While most bass fisherman have traded in their rods for rifles and headed off to the deer stand, Denham Springs angler, Ronald Pierre takes to the water for what he calls his favorite time to fish. "I have had days where it was frigid, windy, and downright bone chilling only to put more than 100 bass in the boat by 1 p.m." he says. Ronald recently made a trip to Bayou Bonfouca for some cold weather fishing but instead of wetting his line early he decided to do a little scouting with his electronics first. "I was trying to dissect the deeper areas and to find sweet spots where big schools of fish wanted to winter.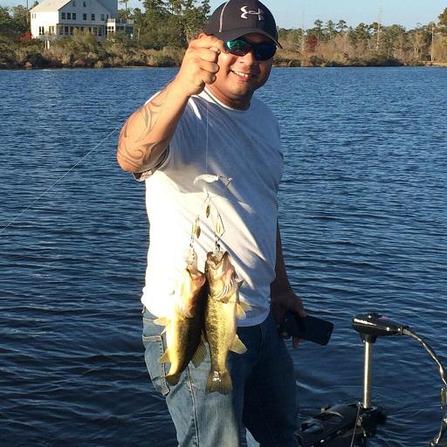 What I found was nothing short of amazing!" Pierre said. Any bass fisherman will tell you that structure transitions are important when finding bass. A grass line running up into a bulkhead, a shallow flat dropping off into deeper water, or a soft bottom interrupted by shells are all things that Ronald looks for when honing in on bass. On this morning he found the latter of the three. "After I had made several passes over what my electronics showed as a hard bottom, I decided to drop the trolling motor. I started cranking the area and my rod tip started jumping as if I were dragging my crank-bait over a highway. Upon reeling my lure in I noticed I had snagged some shells with my treble hooks along the bottom," Pierre said. What he had found was a shell bed in the deep end of the bayou that spanned over 75 yards long and was 12 to 15 ft. in width. Ronald took another cast and hit pay dirt! "On my second cast as soon as my lure started grinding along the shell pads I hooked up with a nice fish. As I began to flip the fish over the rail I noticed at least eight to ten bass following it. That's when it happened! All of a sudden the whole bend in the bayou as far as the shell beds stretched, bass begin to blow up on the surface in a feeding frenzy!" he said. Ronald carries a video camera on board his Nitro bass boat, but says the urge to catch fish outweighed the need to record the action. "I didn't know whether to cast out for another fish or unpack my camera to get this on film because it was something you had to see to believe. We were surrounded by at least 100 to 150 or more bass on the surface chasing schools of shad. It was insane! Instead of getting this on film I couldn't help but to get in on the action, "he said. We caught bass after bass until we were getting tired of catching fish. We literally got bored with swinging in fish over the rail. It had become more of a work out because it was so fast paced," Pierre said. In the world of bass fishing it's very rare to find a spot to concentrate on for hours on end, but that's just what Ronald had sniffed out on this day. "I knew we were on something special when we were still catching bass at a fast rate at 2 p.m. in the same spot where I first dropped the trolling motor earlier that morning. We ended the day with close to 100 bass and that number is a conservative estimate," Ronald said. Pierre stresses that cold weather bass fishing can provide anglers with these kind of days but warns, "There will be times where the weather will down right test your fishing skills and sheer willingness to be out on the water. I won't tell you that it will be like this every time you get out on the water during the winter, but if you do find them they will be stacked up in huge bunches," he said.


Tournament Results
The Annual RP3 Bass King Tournament was held on Bayou Bonfouca and it was Ryan Soto who claimed first place with a 5-fish stringer that weighed 9.05 lbs. Soto also won the big fish division with 4.65 lb. lunker. With the win Ryan punches his ticket to the Bass Assassins Classic next year. In second was Ronald Pierre with a 5-fish bag weighing in at 8.60 lbs. Shaun Miley took third with a total weight of 7.40 lbs.