The ICW area near the Great Wall of Chalmette has undoubtedly been the hot-spot for anglers in search of cold water trout. In fact, the fishing has been so good that it has sidelined what is usually known as deer stand time for Ponchatoula resident Lawrence Lemoine. "This is the first year of really fishing hard in winter time for bass and specks - I kinda like it! I'd much rather try to make something happen while fishing instead of waiting in a stand for something to happen," Lemoine says. On his last trip Lawrence and his two sons ventured down the Intracoastal Waterway and headed for the wall. At first glance the conditions that morning didn't look promising. "We got out there early and wasn't happy about the water clarity - the water temperature was 56 degrees with a slow outgoing tide so we knew we had to fish slowly," Lemoine said.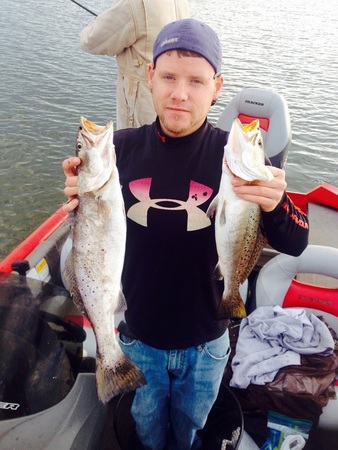 The doubts faded quickly as the team began hauling in redfish left and right and after moving to deeper water, Lawrence and his sons started catching big speckled trout off the deep drop-offs with the help of his electronics. "The fish were a lot deeper than last time I was out there - about 25' to 30' deep. Watching my electronics I was able to concentrate on pockets of fish on ledges," he says. After putting 33 specks in the boat, Lawrence says the bite slowed and they turned their attention to bass. Before the winds ran the anglers in they had boated six largemouths by using speed-craws on the bottom. Lawrence says the specks were all nice sized with a few three pounders mixed in but the biggest was caught by his son, Lawrence Jr., who managed to boat a 4.5 lb. yellow- mouth. With the action this good, Lemoine says it will be tough getting him off the water this winter. "Yea, those deer may get lucky this year!" he says.


Sac-au-lait on the Ponchitolawa

What is arguably the most popular sac-au-lait fishing destination on the Northsore, the Tchefuncte River is starting to produce good numbers of these "white perch". Nolan Knight lives on the Ponchitolawa Creek which feeds into the Tchefuncte River. It's around this time that Nolan starts targeting these delectable fish from his wharf that is located on the creek. In one afternoon Nolan and his sons caught over 30 sac-au-lait using minnows as bait. The family also caught 10 catfish from the wharf which Nolan served up that afternoon. "I cleaned them that afternoon and fried them right on the deck!" Knight said. January is a good time to start targeting sac-au-lait. While February and March are better months for slabs, getting a jump on finding some holes where these fish congregate will pay huge dividends in the spring when these fish really turn on. Cover a lot of water using small jigs or minnows on the bottom. When you put a slab in the boat, hunker down and find the structure that they are holding to. It's more than likely that they will be there in the spring when the bite really turns on.



Tournament Results

The Pearl River Teams Trail Tournament held their event on the Pearl River and it was the father-son team of Morgan and Phil Schutte who figured out the fish. The duo weighed in a total of 5 fish for a combined weight of 14.4 lbs. They also won the big fish division with a lunker that tipped the scales at 5.25lbs. In second was Brett Sellers who brought in a 5-fish limit that weighed 13.5 lbs. Steve Hadely took third place with a total weight of 10.6 lbs.


Upcoming Tournaments

Florida Parishes Bass Anglers will be kicking off their 2015 season with a tournament on the Tchefuncte River, January 11th. For more information on becoming a member contact Kevin Williams at 985-502-6146 or Patrick Engerran at 985-474-6112.

Liars and Lunkers is holding their last tournament of the season on January 11th at Lock One. Anglers will be allowed to launch on either side of Lock One. For more information, please contact Chad at 985-502-3217.