Picture the scene: Its early morning and you're flying solo on a quest to catch a monster Lake Pontchartrain speckled trout. You've got the spot, the winds are calm, and the baitfish is everywhere! You cast out and start working your lure just over a patch of eel grass 20 ft. off of the shoreline and SPLOOOSH! "There he is!" you mumble as the blood starts pumping through your veins and you brace yourself for the fight. You're reel screams and your losing ground. Your mind is now second guessing what it wants to believe- you have a 5+ lb. trophy trout on the end of your line, and what actually is- the end of your line is coming soon because you've hooked into a Jack Crevalle!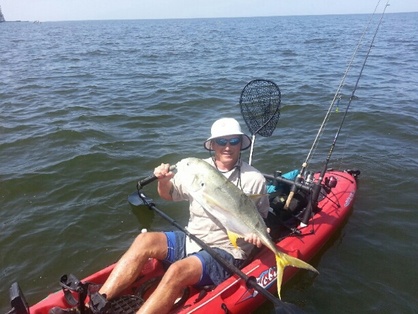 Every August these bullies of Lake Ponchartrain wreak havoc on giant schools of mullet and unsuspecting anglers that dare toss their lure out into their path. Jeff Kreller is an avid Lake Pontchartrain angler who recently came across a few of these bruisers while targeting trophy trout. On his most recent trip he set out on his kayak to try and improve on his third place position in the Star Tournament's East Kayak Division for Speckled Trout. It didn't take long to figure out that the shoreline was teaming with these brutes. Jeff hooked into three Jack Crevalle and managed to get two of them to his kayak. "It never ceases to amaze me just how powerful these boys are. Fighting them in today's wind and waves truly had me spent. The long battles had my trout hunt time spent as well. Once you finally get him aboard - as you're catching your breath and regaining feeling back in your arms - take a good look at Mr. Jack - He really is a beautiful creature, as mean as he is," Jeff says. Kreller advises those who don't feel like tangling with a Jack to stop working the lure. "If you can see ole Jacky coming for your arty (artificial lure), bring it to a dead stop and they will usually lose interest right away. They'll rarely show any interest in anything moving slow across the bottom, he says.

Bayou Bonfouca
One of the bright spots of summer for catching bass is still producing limits of bass. While there are no longer bass being caught near the mouth of Bayou Bonfouca because of the improving lake salinity, anglers are still finding bass up-river holding to their summertime pattern. Daniel Sissac has been fishing the bayou and catching a limit almost every time. He gives some tips for fishing the bayou. "The fish are still on a summer pattern for now, so fish them early and late in the day. Grass lines, ledges, and shade such as boat docks will be the best producers. Soft plastics such as the Shu-Shu, worms, and frogs have been working well. After the sun has risen considerably, try using crank-baits and spinner-baits," he says. Until the first cool fronts get here the water temperatures should skyrocket during the middle of the day. Daniel says it can be tough fishing during this time. "Remember, the fish will be trying to stay cool by moving to deeper water during the hottest part of the day and they will be more sluggish at this time," Sissac says.